IT'S HOME! Bringing My New SLS AMG Black Series to the Garage
페이지 정보
작성자
관리자

(66.♡.75.166)
댓글
0건
조회
11회
작성일

20-03-23 05:00
본문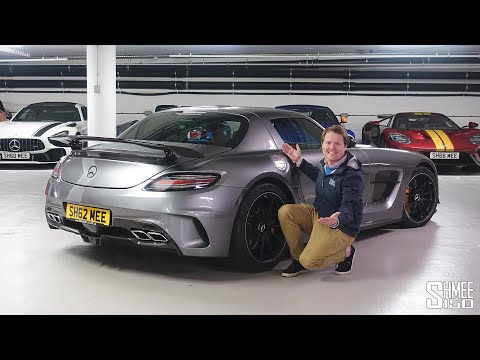 It's time to bring my new dream SLS AMG Black Series back home! First stop, visiting GerCollector's epic garage with the SLR Stirling Moss and SLR 722, then a crazy 15 hour overnight drive back to my garage. IMPORTANT NOTE: Borders are now closed, this video was filmed before the current global crisis began, hopefully we can enjoy some positivity! Thank you for your support.
After years of talking about it, I finally collected the new-to-me Mercedes-Benz SLS AMG Black Series Shmeemobile from Schaltkulisse near to Munich, Germany. Given the location, I had to stop for a visit to my friend @GerCollector and his amazing garage. As such we kick start from the collection, surround by epic cars like the McLaren P1, Ferrari F40 and more, and of course in particular some amazing Mercedes-Benz models.
However, there's a fun observation to be made with both the Mercedes SLR McLaren 722 and the Stirling Moss in their factory Crystal Grey Antimony Metallic to match one another. This is where we can see the Himalaya Grey paintwork of my SLS Black Series side-by-side, and looking near on identical. While I do love the look of my car, I bought it with the intention to change the colour to something special for myself, to make it my own, and that is the intention at the moment.
After departing via the car lift we need to get the car loaded up into Tony from Turbo Transport's trailer ready for the journey home. Kicking off at 9pm we know it's going to be a long ride heading all the way through the night across to France and back towards the UK for midday the next day. On arrival though, the car can be unloaded and ultimately brought into the garage to 'meet' the other Shmeemobiles for the first time.
Turbo Transport
http://instagram.com/turbotransport
GerCollector
http://instagram.com/gercollector
NOTE: The timing of this milestone is far from ideal due to current global circumstances, however I am also incredibly excited and proud to celebrate my channel reaching 2 million subscribers. The process of purchasing this car came well before the current situation exploded, otherwise this would not have been possible due to border restrictions, self distancing, and other health and safety issues. I hope you can join with me in a positive fashion celebrating this achievement and a personal thank you to all of your continuous support. My best wishes go out to everybody who is affected by this global crisis and my thoughts are always with you especially during these trying times.
Thanks for watching, Tim
Subscribe:
http://bit.ly/Shmee150YT
Website:
http://www.shmee150.com
Shop:
http://shop.shmee150.com
Instagram:
http://www.instagram.com/shmee150
Facebook:
http://www.facebook.com/shmee150