Ferrari Purosangue DRIVEN: Worth £400k? | Top Gear
페이지 정보
작성자
관리자

(40.♡.167.94)
댓글
0건
조회
13회
작성일

23-03-08 08:00
본문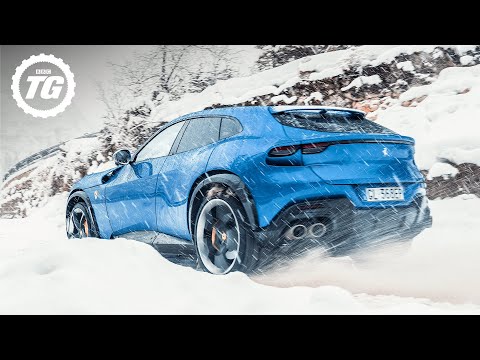 So then, the Purosangue. In literal terms 'pureblood'. There's a V12 up front and all-wheel drive, but more importantly, four doors and four seats. Controversial. There's also a hatch and a decent enough boot, Ferrari even has plans for ski and bike carriers – carbon fibre and fabulously expensive, obviously – and the sense that if practicality had been skinned down to the bare essentials in favour of Ferrari-ness, you'd be looking at it.
The 6.5-litre V12 produces 715bhp, enough to launch the Purosangue from 0-62mph in 3.3 seconds. Sprightly... But how does it fair on Italy's snow covered mountain roads? Top Gear Magazine's Associate Editor, Tom Ford, finds out.
Subscribe to Top Gear for more videos:
http://bit.ly/SubscribeToTopGear
WATCH MORE TOP GEAR:
First Looks:
https://bit.ly/TGFirstLooks 
First Drives:
https://bit.ly/TGFirstDrives
American Tuned ft. Rob Dahm:
https://bit.ly/TGAmericanTuned
MORE ABOUT TOP GEAR:
Welcome to the official home of Top Gear on YouTube. Here you'll find all the best clips from your favourite episodes, whether that's Ken Block drifting London in the Hoonicorn, Chris Harris in the latest Porsche 911 GT3 or classic Top Gear clips from Clarkson, Hammond and May. You'll also find the latest performance car reviews from the TopGear.com crew, our brand new series American Tuned with Rob Dahm and the fastest power laps from our in house performance benchmark: The Stig.
This is a commercial channel from BBC Studios.
Service & Feedback
https://www.bbcstudios.com/contact/contact-us/