Final Audi R8 GT V10 vs Original Audi R8 V8 – Tested on Road and Track | Top Gear
페이지 정보
작성자
관리자

(157.♡.39.200)
댓글
0건
조회
20회
작성일

23-01-05 03:15
본문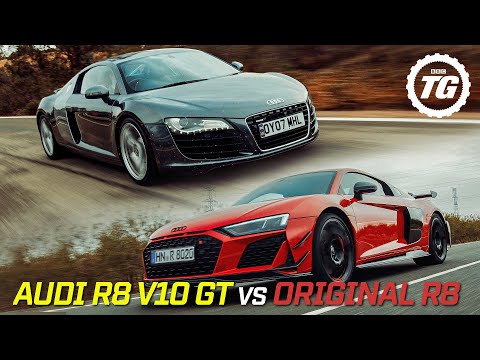 Terrible news folks: the Audi R8 is no more. Well, almost. Audi has announced it'll stop building its V10 supercar in late 2023 and its replacement will be an all-electric e-Tron. Goodbye to 5.2-litre howl…
Audi's goodbye present to itself is the R8 GT: a rear-wheel drive limited edition with a bit less weight, a bit more power and a family value pack of carbon fibre aero parts. It can teach you how to drift, but does that mean it's the most fun to drive Audi ever? Or does that title belong to the first supercar ever to wear the four rings - the 4.2-litre V8 R8 complete with manual gearbox and a mere 414bhp?
TopGear magazine's Ollie Kew has exclusively driven them both back to back, to find out…
Subscribe to Top Gear for more videos:
http://bit.ly/SubscribeToTopGear
Chapters:
00:00 Intro
01:08 The Original Audi R8
06:58 The new Audi R8 V10 GT
14:16 On the track
20:17 The verdict
MORE ABOUT TOP GEAR:
Want to watch a bit of Top Gear on the internet? Welcome to the most comprehensive collection of official clips you'll find on YouTube. Whether you're searching for a caravan challenge, Ken Block in the Hoonicorn, cars versus fighter jets, Stig power laps or the latest Chris Harris Drives, you can find all the iconic films here.
Want to share your views with the team? Join our BBC Studios Voice:
https://www.bbcstudiosvoice.com/register
This is a commercial channel from BBC Studios.
Service & Feedback
https://www.bbcstudios.com/contact/contact-us/