FIRST LOOK: NEW Porsche 911 Dakar - Limited Edition, €‎222k Off-Road Racer | Top Gear
페이지 정보
작성자
관리자

(207.♡.13.105)
댓글
0건
조회
74회
작성일

22-11-17 12:00
본문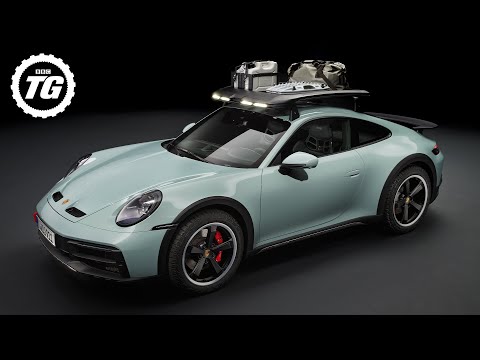 It's not often we taste a new flavour of Porsche 911. Usually the same models come around on largely excellent repeat: Carrera, Targa, Turbo, GT3, Sport Classic… there's a 911 for just about any person, and any road. Except, what if you like mucking about on mud, sand, snow?
Welcome to something called the 911 Dakar: a toughed-up high-riding version of the 992 GTS. That means a 475bhp 3.0-litre twin-turbo flat six at the back, four wheel drive, and an eight speed PDK gearbox… all dangling 50mm higher off the ground than usual.
Only 2,500 of these zombie apocalypse-proof 911s will exist, so join Top Gear magazine's Ollie Kew for an in-depth look at the Dakar's tougher body, dune-ready suspension, extra driving modes, and crazy options list…
Chapters:
0:00 - Intro
0:52 - A New Name
1:22 - Features
3:01 - Ride Height
3:40 - Drive Train
4:13 - Speed
4:38 - Tyres
5:28 - Optional Extras
7:27 - Interior
9:27 - Outro
Subscribe to Top Gear for more videos:
http://bit.ly/SubscribeToTopGear
MORE ABOUT TOP GEAR:
Want to watch a bit of Top Gear on the internet? Welcome to the most comprehensive collection of official clips you'll find on YouTube. Whether you're searching for a caravan challenge, Ken Block in the Hoonicorn, cars versus fighter jets, Stig power laps or the latest Chris Harris Drives, you can find all the iconic films here.
Want to share your views with the team? Join our BBC Studios Voice:
https://www.bbcstudiosvoice.com/register
This is a commercial channel from BBC Studios.
Service & Feedback
https://www.bbcstudios.com/contact/contact-us/