Driving The Ultimate School Bus Up An Active Volcano | Top Gear
페이지 정보
작성자
관리자

(66.♡.79.113)
댓글
0건
조회
79회
작성일

22-08-08 01:30
본문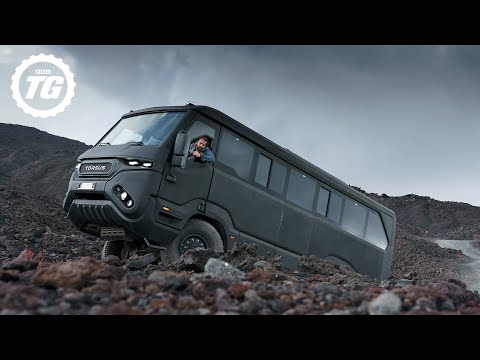 This behemoth is the Torsus Praetorian - the Mad Max of coaches. It came to life after the husband and wife team of Pulsar Expo realised that companies needed a more efficient way to move people on-site than a fleet of pick-ups and SUVs. What spawned was a 35-seater off-road bus which can handle pretty much any terrain you can think of. Its 6.9-litre straight-six diesel engine produces 290bhp which might not sound like much considering a basic Praetorian weighs 13,400kgs - until you find out it also has 848lb-ft torque.
Where else better to test the ultimate off-road bus than Mount Etna, the highest active volcano in Europe hanging out at just under 11,000 ft. Allow Top Gear Magazine's Tom Ford to be your guide.
Chapters:
0:00 Intro
0:55 Company Background
1:55 Versions
2:28 Closer Look
2:52 Engine & Performance
3:27 Mount Etna Intro
4:16 Driving the Torsus Praetorian
6:25 Mount Etna Landscape
7:05 Locals' Opinions of Mount Etna
8:20 Outro
Subscribe to Top Gear for more videos:
http://bit.ly/SubscribeToTopGear
MORE ABOUT TOP GEAR:
Want to watch a bit of Top Gear on the internet? Welcome to the most comprehensive collection of official clips you'll find on YouTube. Whether you're searching for a caravan challenge, Ken Block in the Hoonicorn, cars versus fighter jets, Stig power laps or the latest Chris Harris Drives, you can find all the iconic films here.
Want to share your views with the team? Join our BBC Studios Voice:
https://www.bbcstudiosvoice.com/register
This is a commercial channel from BBC Studios.
Service & Feedback
https://www.bbcstudios.com/contact/contact-us/