FIRST DRIVE: NEW Ferrari Daytona SP3 - £2m, 828bhp N/A V12 Hypercar | Top Gear
페이지 정보
작성자
관리자

(66.♡.79.117)
댓글
0건
조회
79회
작성일

22-08-01 07:00
본문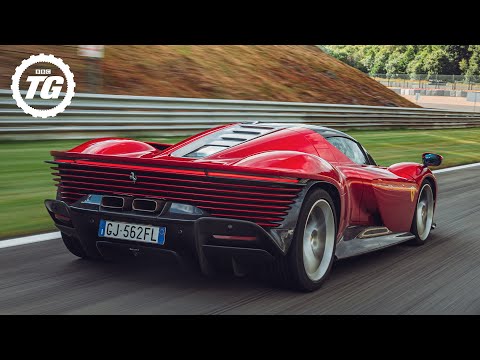 It has the richest back catalogue of all, but Ferrari will never do a 'continuation' car. That doesn't mean heritage is off-limits, though, which is where the Icona series comes in. Meet the Daytona SP3, a limited series, carbon fibre-bodied and mid-engined V12 two-seater fuelled by memories of the spectacular late Sixties/early Seventies Sport Prototipo era, and the 1-2-3 result in 1967's Daytona 24 Hours race in particular.
Allow Top Gear Magazine's Jack Rix to be your guide on this one-of-599, 828bhp Ferrari that's worth £2m.
Subscribe to Top Gear for more videos:
http://bit.ly/SubscribeToTopGear
MORE ABOUT TOP GEAR:
Want to watch a bit of Top Gear on the internet? Welcome to the most comprehensive collection of official clips you'll find on YouTube. Whether you're searching for a caravan challenge, Ken Block in the Hoonicorn, cars versus fighter jets, Stig power laps or the latest Chris Harris Drives, you can find all the iconic films here.
Want to share your views with the team? Join our BBC Studios Voice:
https://www.bbcstudiosvoice.com/register
This is a commercial channel from BBC Studios.
Service & Feedback
https://www.bbcstudios.com/contact/contact-us/