PASSION TO THE CORE! This is the Ultimate Reimagined Mercedes
페이지 정보
작성자
관리자

(34.♡.82.79)
댓글
0건
조회
6회
작성일

23-03-17 05:05
본문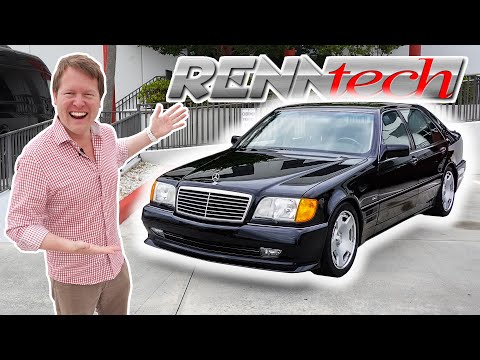 Can you believe what RENNtech have built!? This is the S76R, the ultimate Mercedes-Benz S Class, a 90s 600 SEL that now features a 7.6l NA V12 making over 600 horsepower, yet sliding under the radar. Let's check out RENNtech's craziest restomod creation to date!
Hartmut Fehyl founded RENNtech after a career at AMG that had involved everything from being an engine builder to Technical Director. In the 90s, RENNtech produced Mercedes cars with 7.4 litre engines, and even a singular 7.6 litre, well they've done it again with a 1992 600 SEL.
This 1 of 1 project was commissioned by a customer, to overhaul the original car and create something unique, boosting 615hp and over 700 ft-lbs of torque. To do so means much more than simply a small modification; to enlarge the air boxes means repositioning the oil reservoir for the suspension system and re-routing the AC pipework, along with ensuring the car has the stability and crucially the stopping power to match. On the latter point, the S76R features AMG Carbon Ceramic brakes more typically found on an SLS AMG Black Series, but powerful enough to bring it to a stop.
The changes don't stop there, 3d printed bodywork parts and a completely retrimmed interior add to the package, all creating a one-off machine from a segment that is seeing huge interest at this time. Prices for the likes of the AMG Hammers are flying northwards, and have hugely shifted since only a few years back, hence massively increased demand in projects like this.
Thanks for the owner for the opportunity to take out this car for a drive, and of course also to @RENNtechTV for making it happen.
Thanks for watching, Tim
Chapters:
00:00 Intro
01:19 S76R Walkaround
06:43 V12 Startup
07:14 My First Drive
18:23 Interior Tour
19:35 Final Thoughts
22:12 Wrap Up
#RENNtech #Mercedes #Restomod
WATCH NEXT:
???? COMPLETE TOUR of My Car Collection! 2023; 13 Years of YouTube
https://www.youtube.com/watch?v=CBAbD9PD24g
???? RICHARD HAMMOND ROASTS MY Lambo! Visit to The Smallest Cog
https://www.youtube.com/watch?v=sgwdSmkrbhg
???? My DREAM FIRST DRIVE in the New LAMBORGHINI COUNTACH!
https://youtu.be/JDVLWPnKJj8
SHMEE150 GEAR:
???? Filming Equipment -
https://kit.co/Shmee150/youtube-filming-gear-2023
???? What's In My Bag -
https://kit.co/Shmee150/in-my-bag
???? Car Maintenance -
https://kit.co/Shmee150/shmeemobile-car-maintenance
SUPPORT SHMEE150:
???? Merch Store -
http://cheers.shmee150.com
???? Model Cars, Sunglasses & More -
https://shmee150.com/affiliate-shop
SHMEE150 PARTNERS:
???? Car Finance -
https://www.approvedmotorfinance.co.uk/shmee150
???? BOTB Win Your Dream Car -
https://www.botb.com/shmee150
???? Topaz Detailing -
http://www.topazdetailing.com
????️ Vehicle Tracking -
https://globaltelemetrics.com
OTHER SHMEE150 CHANNELS:
???? The Shmuseum -
http://youtube.com/theshmuseum
???? Shmeebites -
http://youtube.com/shmeebites
⌚ Shwatch150 -
http://youtube.com/shwatch150
FIND SHMEE150 ONLINE:
???? Website -
http://www.shmee150.com
???? Instagram -
http://instagram.com/shmee150
???? Facebook -
http://facebook.com/shmee150
???? TikTok -
https://tiktok.com/@shmee150
WORK WITH SHMEE150:
???? Advertise -
https://shmee150.com/advertise-on-shmee150