CAUSING CHAOS on the FIRST UK DRIVE in My Zenvo TSR-S!
페이지 정보
작성자
관리자

(34.♡.85.3)
댓글
0건
조회
9회
작성일

23-03-13 04:02
본문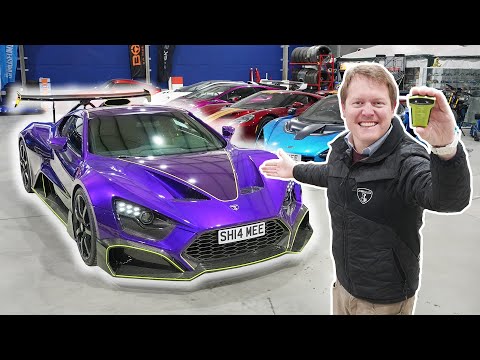 The time has come! We're out with my Zenvo TSR-S for the very first time in the UK, retracing the route of my first TSR-S test drive through to a convoy in central London with a Bugatti Veyron. The craziness and reactions of this car are just unreal, what an experience!
Having originally revealed the car at the Goodwood Festival of Speed prior to the final completion of production, it then returned to Denmark for delivery day at the factory. It was then down in Croatia that I really drove it for the first time with Supercar Owners Circle, before it went back to the factory for shakedown, and then ultimately I brought it to @TheShmuseum for the first time at the start of 2023. However, since then, I've been abroad for most of the time, and the few days that I've been home we've had atrocious weather non-stop, so this is really the first opportunity to get it out on the roads and actually enjoy the car.
Not only that, I've decided to take the Zenvo for a loop around the countryside roads before venturing into town to visit my old car spotting stomping grounds; on a day that sees plenty of other hypercars out and about too. It was great to see so many people, and for the car to be enjoyed by many as well, which I've always said is one of the things I love the most about this kind of thing.
When I find myself convoying around central London with a stunning bright red Bugatti Veyron, it's very much a pinch moment of having done that 10-15 years ago on my bicycle, to now driving in my very own Zenvo! Thank you for your support over the years that made all of this possible.
The brand new Heel Tread Shmee Zenvo socks are now available right here:
https://heeltread.com/products/shmee-zenvo-socks?aff=2
Thanks for watching, Tim
Chapters:
00:00 Intro
01:07 Heel Tread Socks
02:56 Startup
03:44 First UK Drive
09:52 Reactions in London
15:37 Quick Stop
16:55 Back on the Road
17:28 Bugatti Veyron Arrives
18:40 Heading to the Shmuseum
23:10 We're Home
26:11 Wrap Up
#Zenvo #TSRS #FirstDrive
WATCH NEXT:
???? COMPLETE TOUR of My Car Collection! 2023; 13 Years of YouTube
https://www.youtube.com/watch?v=CBAbD9PD24g
???? RICHARD HAMMOND ROASTS MY Lambo! Visit to The Smallest Cog
https://www.youtube.com/watch?v=sgwdSmkrbhg
???? My DREAM FIRST DRIVE in the New LAMBORGHINI COUNTACH!
https://youtu.be/JDVLWPnKJj8
SHMEE150 GEAR:
???? Filming Equipment -
https://kit.co/Shmee150/youtube-filming-gear-2023
???? What's In My Bag -
https://kit.co/Shmee150/in-my-bag
???? Car Maintenance -
https://kit.co/Shmee150/shmeemobile-car-maintenance
SUPPORT SHMEE150:
???? Merch Store -
http://cheers.shmee150.com
???? Model Cars, Sunglasses & More -
https://shmee150.com/affiliate-shop
SHMEE150 PARTNERS:
???? Car Finance -
https://www.approvedmotorfinance.co.uk/shmee150
???? BOTB Win Your Dream Car -
https://www.botb.com/shmee150
???? Topaz Detailing -
http://www.topazdetailing.com
????️ Vehicle Tracking -
https://globaltelemetrics.com
OTHER SHMEE150 CHANNELS:
???? The Shmuseum -
http://youtube.com/theshmuseum
???? Shmeebites -
http://youtube.com/shmeebites
⌚ Shwatch150 -
http://youtube.com/shwatch150
FIND SHMEE150 ONLINE:
???? Website -
http://www.shmee150.com
???? Instagram -
http://instagram.com/shmee150
???? Facebook -
http://facebook.com/shmee150
???? TikTok -
https://tiktok.com/@shmee150
WORK WITH SHMEE150:
???? Advertise -
https://shmee150.com/advertise-on-shmee150