TRADING CARS with The Hamilton Collection! Steve's Nerves to the TEST
페이지 정보
작성자
관리자

(34.♡.82.64)
댓글
0건
조회
156회
작성일

23-01-23 04:05
본문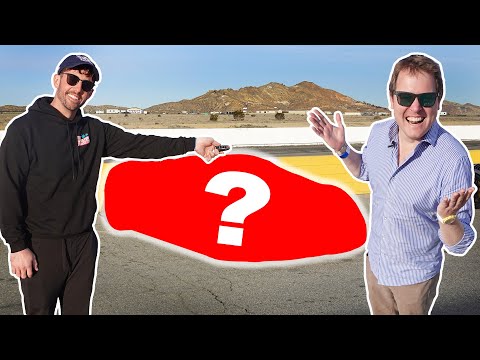 Trading cars and I get the Porsche 918 Spyder at Willow Springs Raceway, LET'S GO! I'm with Steve from @TheHamiltonCollection and taking the wheel of the German hybrid hypercar after he's done some laps in my AMG GT Black Series. Find out what he feels of the passenger seat!
I've met up with Steve, Tommy, Natalia and the crew at a few events before; from The Event 2 by @TheTripleFCollection to events at Monterey Car Week, but finally we've got the cameras rolling for a crossover - and what a way to do it at the track. Fresh from a direct swap and 2 car drive with the McLaren 765LT and my GT BS, this time around Steve is jumping into the 918 with me taking the hot seat to see what it's all about.
The Porsche 918 Spyder was the first production road car to break the 7 minute barrier and become the King of the Ring, nearly a decade ago with a Nurburgring Nordschleife lap record time of 6:57. Fast forward, and it's still one of the absolute fastest cars out there and with over 900hp, there's no holding back when you go full throttle.
Safe to say Willow Springs International Raceway doesn't exactly have the best tarmac quality, and the tyres on the Porsche are approaching 7 years old and past their usable life; but that isn't going to stop the fun even if it gives Steve a little bit of a scare along the way!
Thanks to everyone for great spirits and an amazing time out during the @cargroms trackday at Willow Springs!
Thanks for watching, Tim
Chapters:
00:00 Intro
01:00 918 Intro
02:50 Walkaround with Steve
05:04 Getting Prepared
06:38 Track Time
11:27 Return to Pits
13:40 Final Thoughts
15:43 Wrap Up
#Porsche #918Spyder #WillowSprings
WATCH NEXT:
???? COMPLETE TOUR of My Car Collection! 2023; 13 Years of YouTube
https://www.youtube.com/watch?v=CBAbD9PD24g
???? RICHARD HAMMOND ROASTS MY Lambo! Visit to The Smallest Cog
https://www.youtube.com/watch?v=sgwdSmkrbhg
???? Preparing My 1,000HP WINTER SLAYER! Ferrari SF90 Stradale Roof Box Install
https://www.youtube.com/watch?v=nfPCWMcz97M
SHMEE150 GEAR:
???? Filming Equipment -
https://kit.co/Shmee150/youtube-filming-gear-2023
???? What's In My Bag -
https://kit.co/Shmee150/in-my-bag
???? Car Maintenance -
https://kit.co/Shmee150/shmeemobile-car-maintenance
SUPPORT SHMEE150:
???? Merch Store -
http://cheers.shmee150.com
???? Model Cars, Sunglasses & More -
https://shmee150.com/affiliate-shop
SHMEE150 PARTNERS:
???? Car Finance -
https://www.approvedmotorfinance.co.uk/shmee150
???? BOTB Win Your Dream Car -
https://www.botb.com/shmee150
???? Topaz Detailing -
http://www.topazdetailing.com
????️ Vehicle Tracking -
https://globaltelemetrics.com
OTHER SHMEE150 CHANNELS:
???? The Shmuseum -
http://youtube.com/theshmuseum
???? Shmeebites -
http://youtube.com/shmeebites
⌚ Shwatch150 -
http://youtube.com/shwatch150
FIND SHMEE150 ONLINE:
???? Website -
http://www.shmee150.com
???? Instagram -
http://instagram.com/shmee150
???? Facebook -
http://facebook.com/shmee150
???? TikTok -
https://tiktok.com/@shmee150
WORK WITH SHMEE150:
???? Advertise -
https://shmee150.com/advertise-on-shmee150