BUG and EGG TAKEOVER! My First Drive in a Chiron Sport '110 Ans Bugatti'
페이지 정보
작성자
관리자

(66.♡.79.113)
댓글
0건
조회
95회
작성일

23-01-19 04:04
본문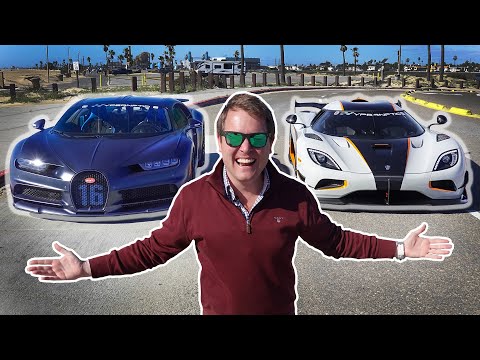 Now this is as hyper as you can get! I'm with @KARNAGE-TV and the HyperNFT hypercar collection, and we're taking two unbelievable cars out for a drive. It's my first time behind the wheel of the stunning Bugatti Chiron 110, giving chase to a Koenigsegg Agera RS!
Dean and the Karnage team operate the fleet of pro-drift Vipers, including the ultimate mad machine with 1,400 wheel horsepower, with HyperNFT as the headline sponsor for the team. Not only that, but the workshop space is soon to be completely transformed, but for now means the view at the warehouse includes some of Hyper's fantastic fleet of epic cars.
Taking a quick look through, we have the likes of the Apollo IE, Bugatti Chiron 110, Koenigsegg Agera RS Valhall, Pagani Huayra BC, Lamborghini Aventador SVJ Xago, and plenty more - and that's not even everything! However, today, Dean and I are picking two cars to take out around the block... the Bugatti and Koenigsegg!
Having been very kindly offered the opportunity to pilot the Bugatti, this is actually my first time at the wheel of the Chiron Sport 110 Ans Bugatti; the first special edition variant that was introduced on the model. This particular car is also open to offers for any interested party, and with the incredible attention to details and nods to the French Tricolor accenting against the stunning paintwork and exposed carbon... there's a lot to love about it.
After a tour around the warehouse, let's get the cars fired up and ready to head out. There's a lot to enjoy about driving a Bugatti; fabulous performance and simply effortless power. Thanks to Dean, Mark, the entire team and of course Hyper for such an epic outing!
https://www.youtube.com/@KARNAGE-TV
https://www.instagram.com/team.karnage
https://www.instagram.com/hypernft.io
https://www.instagram.com/deankarnage
Thanks for watching, Tim
Chapters:
00:00 Intro
01:05 Venue Walkaround
05:35 And the Choice is...
07:20 Bugatti Chiron 110
08:30 First Drive
13:11 Stop-over
14:43 Back on the Road
18:07 Back at Karnage HQ
20:01 Wrap Up
#Bugatti #Koenigsegg #Karnage
WATCH NEXT:
???? COMPLETE TOUR of My Car Collection! 2023; 13 Years of YouTube
https://www.youtube.com/watch?v=CBAbD9PD24g
???? RICHARD HAMMOND ROASTS MY Lambo! Visit to The Smallest Cog
https://www.youtube.com/watch?v=sgwdSmkrbhg
???? Preparing My 1,000HP WINTER SLAYER! Ferrari SF90 Stradale Roof Box Install
https://www.youtube.com/watch?v=nfPCWMcz97M
SHMEE150 GEAR:
???? Filming Equipment -
https://kit.co/Shmee150/youtube-filming-gear-2023
???? What's In My Bag -
https://kit.co/Shmee150/in-my-bag
???? Car Maintenance -
https://kit.co/Shmee150/shmeemobile-car-maintenance
SUPPORT SHMEE150:
???? Merch Store -
http://cheers.shmee150.com
???? Model Cars, Sunglasses & More -
https://shmee150.com/affiliate-shop
SHMEE150 PARTNERS:
???? Car Finance -
https://www.approvedmotorfinance.co.uk/shmee150
???? BOTB Win Your Dream Car -
https://www.botb.com/shmee150
???? Topaz Detailing -
http://www.topazdetailing.com
????️ Vehicle Tracking -
https://globaltelemetrics.com
OTHER SHMEE150 CHANNELS:
???? The Shmuseum -
http://youtube.com/theshmuseum
???? Shmeebites -
http://youtube.com/shmeebites
⌚ Shwatch150 -
http://youtube.com/shwatch150
FIND SHMEE150 ONLINE:
???? Website -
http://www.shmee150.com
???? Instagram -
http://instagram.com/shmee150
???? Facebook -
http://facebook.com/shmee150
???? TikTok -
https://tiktok.com/@shmee150
WORK WITH SHMEE150:
???? Advertise -
https://shmee150.com/advertise-on-shmee150