Meet Pablo, the MOST PASSIONATE Car Collector Ever!
페이지 정보
작성자
관리자

(207.♡.13.105)
댓글
0건
조회
25회
작성일

22-12-03 03:15
본문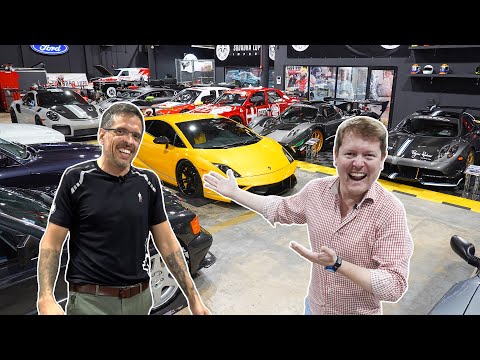 The @SquadraLupo garage in Miami is as legendary as they come! Join me with Squadra Lupo's founder, Pablo Perez, for a full walkaround tour of the private facility of motorsports heroes from Group B, World Rally Championship, and so much more. This is as epic as they come!
Very rarely will you ever see so many icons of the 1980s in one place, a selection of the ultimate homologation specials linked to the period of Group B racing yet combined with plenty of other iconic cars. With a list featuring the likes of the Ford RS200 and RS500, multiple Renault 5 Turbos, Mercedes 190E Evos, BMW E30 M3s, Lancia Deltas, and a newly arrived Peugeot 205 Turbo 16, it's something to behold.
Then there are the supercars; the brand new Liquid Carbon Ford GT, Pagani Huayra BC and a hyper-rare Pagani Zonda Revolucion that is one of only 5 cars and frequently taken to race circuits around the world by Pablo and the team. In addition, the collection also includes a 2005 Ford GT, Lamborghini Gallardo Squadra Corse, Porsche GT2 RS, Shelby GT500, Dodge Demon, and even a Morgan 3 Wheeler.
Beyond the line-up of legends, what makes this display even more special is the passion that exudes from Pablo and his team about the preservation and maintenance of these machines.
It's a huge thank you from me to Pablo for his time, hospitality, and opportunity to showcase this amazing location with you. Please do check out Squadra Lupo and what they have in the works for the future:
https://instagram.com/squadralupoimport
http://youtube.com/@squadralupo
Thanks for watching, Tim
Chapters:
00:00 Intro
01:39 Welcome to Squadra Lupo
03:18 WRC Cars
04:41 Group B Legends
13:10 American Muscle
14:52 Supercars
16:19 Hypercars
19:27 DTM
20:57 Extra Race Cars
24:39 Peugeot 205 Turbo 16
28:00 Final Cars
32:22 Office and Memorabilia
37:19 Pinball Arcade
40:33 Final Thoughts
42:43 Wrap Up
#SquadraLupo #Miami #CarCollection
Subscribe:
http://bit.ly/Shmee150YT
Website:
http://www.shmee150.com
Shop:
http://shop.shmee150.com
Instagram:
http://www.instagram.com/shmee150
Facebook:
http://www.facebook.com/shmee150