The BEST CARS in the World! Spotting at the Abu Dhabi F1
페이지 정보
작성자
관리자

(66.♡.66.3)
댓글
0건
조회
3회
작성일

22-11-22 03:00
본문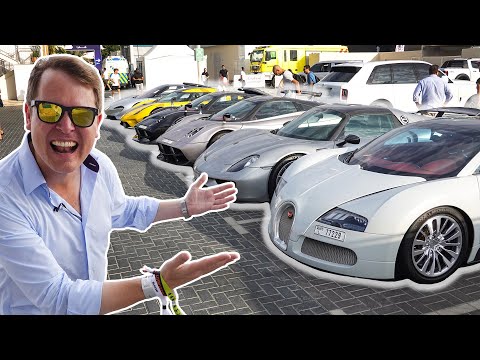 Check out the VIP car parks at Yas Marina on Formula 1 Grand Prix day! I never expected to see so many epic cars at the F1; from 5 Bugattis to all the Ferrari hypercars. Let's explore at both Casa Ferrari plus the marina beside some of the most fabulous yachts in the world!
We've arrived in Abu Dhabi following the Gumball 3000, but now it's time for the race or more specifically for me to go exploring and find the special cars around. Last year was impressive, but this year is onto another level! Kicking off with a visit to the Ferrari customer hospitality, the Cavallino Classic display impresses immensely with many models from through Ferrari's history, including the full display of the 288 GTO, F40, F50, Enzo, LaFerrari and LaFerrari Aperta.
However, then onto the spotting where the marina VIP parking areas do not disappoint, with the Platinum parking beside the superyachts even more impressive than ever. From there it's onwards to the hotel and again spotting incredible cars all around. To give a list of what we found:
3 Bugatti Chiron
2 Bugatti Veyron
2 Porsche 918 Spyder
2 Pagani Huayra
2 Ferrari Monza
Ferrari LaFerrari Aperta
Ferrari LaFerrari
Ferrari Enzo
Ferrari F50
Ferrari F40
Ferrari 288 GTO
McLaren Speedtail
McLaren P1
Koenigsegg Regera
Lamborghini Countach
W Motors Lykan Hypersport
What a day!
Thanks for watching, Tim
Chapters:
00:00 Intro
01:11 Casa Ferrari
03:50 Parking the Touareg
06:01 Platinum Parking
12:10 Yachts
12:44 Challenger Hellcat Police Car
12:53 Lamborghini Countach LPI 800-4
13:58 Parking Garage Spotting
15:45 Lord Aleem's Bugatti Chiron
16:37 Gumball 3000 Cars at W Hotel
17:24 Wrap Up
18:26 One More Bugatti
#CarSpotting #Formula1 #AbuDhabi
Subscribe:
http://bit.ly/Shmee150YT
Website:
http://www.shmee150.com
Shop:
http://shop.shmee150.com
Instagram:
http://www.instagram.com/shmee150
Facebook:
http://www.facebook.com/shmee150