BYE BYE GT2 RS, It's DONE!
페이지 정보
작성자
관리자

(66.♡.75.228)
댓글
0건
조회
3회
작성일

22-11-19 05:30
본문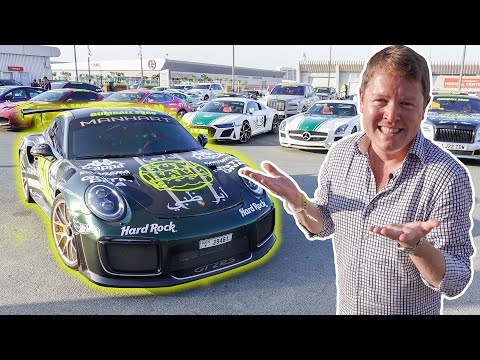 It's time to say farewell to the Porsche GT2 RS! That can only mean the last leg of the 2022 @Gumball 3000 Middle East with the most checkpoints ever in an action packed day towards the finish line at the Abu Dhabi F1 Grand Prix. What an adventure, what a drive, what a car!
Setting off from Ras Al Khaimah, our first stop in Sharjah brings out the tyre shredding action before we're onwards to a Royal Stables in Dubai. After being treated to a dressage demo, it's over to the Dubai Autodrome for some track action and a parade lap joined by Supercars Majlis. Lastly, the final stretch of the 23rd Gumball 3000 supercar rally is onwards to Abu Dhabi and specifically to Yas Marina, in time for the final race of the Formula 1 season calendar.
We've been driving again as Team 150, with the Manhart TR900, a 945hp Porsche GT2 RS, but sadly it's now time to hand back over the keys following the end of the rally. Over the last week the car has been a ridiculous machine to get around with, and thankfully the scare at the start was only a scare, with all being returned in one piece - although it's shocking to think how quickly that could have changed if it wasn't for quick thinking.
This Gumball 3000 has been completely different to previous rallies in Europe and North America, but quite the experience from the 3 days we've joined of the 6. While I was unable to make it to the long legs across Oman, it's still been unforgettable and awesome to be a part of. Thanks to Gumball 3000 and everybody involved!
Thanks for watching, Tim
Chapters:
00:00 Intro
01:09 Car Park Misbehaviour
04:00 On the Road
05:33 The Stables
07:12 Driving to the Autodrome
09:19 Paddock Overload
10:53 Supercars on Track
14:19 Parade Lap
19:15 Dubai Expo City
20:28 The Last Leg
24:40 Arriving in Abu Dhabi
26:38 Gumball 3000 Final Thoughts
28:46 Wrap Up
#Gumball3000 #Finish #AbuDhabi
Subscribe:
http://bit.ly/Shmee150YT
Website:
http://www.shmee150.com
Shop:
http://shop.shmee150.com
Instagram:
http://www.instagram.com/shmee150
Facebook:
http://www.facebook.com/shmee150