WHY DID I LEAVE!? It's Time to RACE, FULL SEND on the Gumball 3000
페이지 정보
작성자
관리자

(207.♡.13.57)
댓글
0건
조회
3회
작성일

22-11-18 04:00
본문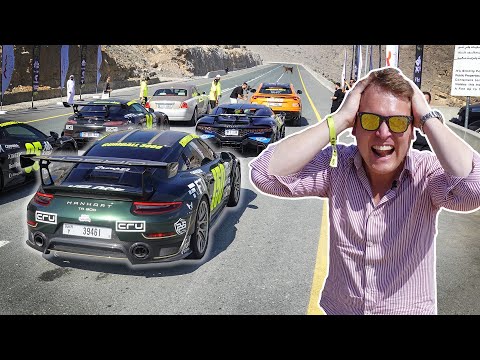 How often do you get to race up a mountain road!? We're back on the @Gumball 3000 for some fun on a 'private race track', driving the Manhart GT2 RS up Jebel Jais in Ras Al Khaimah. With the road shut down for the Gumballers, you can get it's an opportunity to open it up!
I've been absent from the last couple of days of the rally to get my feet back up and running after the extraordinarily busy last month, but it's time to return with a bang for some epic days ahead! Today brings us out to Ras Al Khaimah and a road I am very familiar with, Jebel Jais. Meandering up the ragged mountainside to the palace at the top, on this particular run we have a long stretch closed exclusively for the Gumballers to put the pedal to the metal.
Having kicked off a few days prior in Dubai for the start of the 23rd Gumball 3000, we're driving as Team 150 in the Manhart TR900, a modified Porsche GT2 RS with over 900 horsepower, and perfectly set up to enjoy a run like this. Thankfully we escaped unscathed from the bad luck we had on the start day, so let's ensure we enjoy the rest to the fullest now that we're good to go. And when it comes to driving mountain passes, to be joined by a Bugatti Divo, plus @DailyDrivenExotics in their rental Huracan, and countless other supercars, it doesn't get better!
Thanks for watching, Tim
Chapters:
00:00 Intro
01:04 Hillclimb Begins
02:47 Why Did I Leave?
04:47 Let's Go!
06:30 First Hillclimb Run
09:33 Regroup
11:45 Second Hillclimb Run
15:06 Gumballers at the Palace
15:45 TT Performante Donuts
18:47 Back to Base
19:37 Hotel Return
22:42 Wrap Up
#Gumball3000 #Manhart #MiddleEast
Subscribe:
http://bit.ly/Shmee150YT
Website:
http://www.shmee150.com
Shop:
http://shop.shmee150.com
Instagram:
http://www.instagram.com/shmee150
Facebook:
http://www.facebook.com/shmee150