CHASING GUMBALL 3000 HYPERCARS! My First Day on the Middle East Rally
페이지 정보
작성자
관리자

(211.♡.150.195)
댓글
0건
조회
14회
작성일

22-11-15 04:45
본문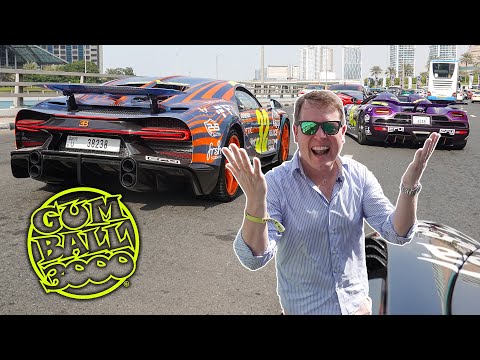 And we're off! Join me for the first day of the 23rd Gumball 3000 supercar rally, in the Middle-East, driving the Manhart TR900 GT2 RS. The flag drops and things get started in Dubai, where we're quickly chasing an epic trio of hypercars on our way into the desert. Let's go!
I'm joining some of the legs on the second rally of 2022, now my 8th time taking part in the Gumball. This is the first time the world's most famous supercar rally has taken place in the Middle East with a route crossing the UAE and Oman over a week leading up towards the Abu Dhabi Formula 1 Grand Prix. However, the first step is to get underway from the start in Burj Park, at the foot of the Burj Khalifa tower, for the police parade out of the city and onwards to the first checkpoint in the desert.
Having waited to see all of the cars off the grid, we are the very last team to get started, meaning a catch up game although very quickly we come across the likes of the Bugatti Chiron Super Sport, Koenigsegg Agera R Zijin and Ferrari LaFerrari Aperta... not a bad sight on the familiar roads of Dubai.
For this rally, I'm again team 150 as per my Shelby GT500 at the last outing, but this time at the wheel of the Manhart TR 900; a Porsche GT2 RS featuring a host of modifications and running 945hp and 1,050Nm; a massive step up from the stock power levels. Not only that, but it's finished in Midnight Green (matching my former Taycan Turbo S at home) and wearing the full rally livery.
With a ludicrously busy schedule recently, my intention was always to join just parts of the rally this time out. Those include the start and the later stages to give some time to catch up on rest after the travel of the last week. Put it this way, SEMA was only 7 days ago; and since then we've driven to Utah, filmed with @TheStradman, flown to London, collected the GT500, updated things at @The Shmuseum, flown to Dubai, registered for Gumball, and now on the rally itself...
Thanks for watching, Tim
Chapters:
00:00 Intro
00:38 Grid Warmup
01:14 Driving the Start Line
03:38 Police Parade
06:22 Chasing Hypercars
09:50 Checkpoint Car Park
11:23 Lunch in the Desert
12:33 Departures
14:53 Next Plans
16:12 Wrap Up
#Gumball3000 #Supercar #Rally
Subscribe:
http://bit.ly/Shmee150YT
Website:
http://www.shmee150.com
Shop:
http://shop.shmee150.com
Instagram:
http://www.instagram.com/shmee150
Facebook:
http://www.facebook.com/shmee150