NEW 680hp AMG C63 S E Performance! First Look at the Hybrid Super-C-Class
페이지 정보
작성자
관리자

(66.♡.79.113)
댓글
0건
조회
103회
작성일

22-09-21 23:00
본문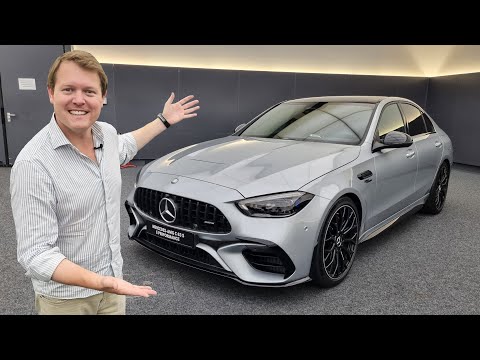 It's here, the brand new Mercedes-AMG C63 S E Performance! It's all change for the new C63 AMG with a 2.0l turbo 4-cyl hybrid set up replacing the traditional V8 so let's explore it in detail to find out everything about the new engine, updated interior, and all the details of the new C63!
After multiple generations of the flagship C63 following a formula of squeezing a massive power lump into one of the smallest cars from the Mercedes-Benz family, this time around things are a bit different. There's no shortage of power with 680PS and 1,020Nm, with 476PS and 545Nm coming from the combustion engine itself. However, for this time around the engine has shrunk and in fact it is the 2.0 litre turbo charged 4-cylinder, a development of the unit that's been seen in the likes of the A45 S and C43. It's not all though, because the car houses a very clever P3 hybrid system including a 6.1kW battery and 204PS electric motor.
The downside of all of this? The weight. The new C63 S E Performance (the only C63 version available) comes in at 2,111kg, hungreds of kilos more than the pervious generation thanks to the 89kg battery and everything else associated with it. The increase from 510PS in the previous car by 170PS certain more than negates the weight, however there's more to it than just power to weight.
Regardless, on the inside we find a new 2nd generation AMG Performance Seat, along with the latest setup of MBUX for the C Class, and the AMG Sports Steering Wheel with touch dial controls. There are visual changes outside too with everything forwards of the A-pillar being specific to the C63; from an extended wheelbase, to longer front end to house the cool components, and of course a significantly wider track.
Thanks for watching, Tim
Chapters:
00:00 Intro
00:57 Highlights
03:03 Front Exterior
04:13 Hybrid Engine Setup
07:22 Interior
13:32 Estate Variant
14:28 Specification Options
15:25 Weight
15:52 Additional Details
16:31 Final Thoughts
17:07 Wrap Up
#AMG #C63EPerformance #FirstLook
Subscribe:
http://bit.ly/Shmee150YT
Website:
http://www.shmee150.com
Shop:
http://shop.shmee150.com
Instagram:
http://www.instagram.com/shmee150
Facebook:
http://www.facebook.com/shmee150