New FERRARI PUROSANGUE Breaks Cover! FIRST LOOK at Ferrari's SUV
페이지 정보
작성자
관리자

(157.♡.39.146)
댓글
0건
조회
83회
작성일

22-09-14 02:00
본문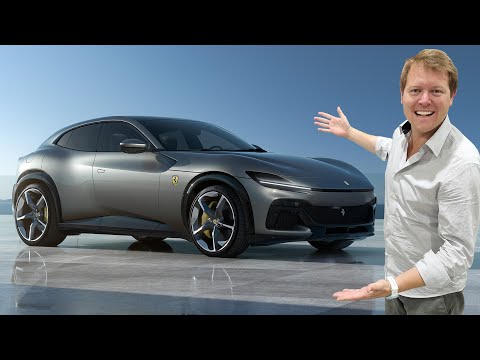 This is the new 2023 Ferrari Purosangue! It's been years in the making but the covers are finally off Ferrari's first ever 4-door 4-seat vehicle and we can take a full look at it. Powered by a glorious 6.5l V12, the 'thoroughbred' Italian brings a lot to the table, let's check it out!
Ferrari have been testing the Purosangue for some time and there have been plenty of spyshots along the way, but finally we can now find out all of the details about it. While the SUV/Crossover segment has proven to be hugely successful across the board, Ferrari in their traditional fashion have taken a totally different approach. Building from the GTC4Lusso, it incorporates the 6.5l naturally aspirated V12 we know from the 812 in a front-mid transaxle configuration with a weight distribution matching that of the marque's super-GTs.
It produces 725hp and 716Nm, revving to 8,250rpm and fitted with an 8spd DCT linked to the four wheel drive system. Purosangue has inherited a number of technological features from the likes of the 812 Competizione including 4 wheel independent steering and ABS 'evo', while the interior brings both the full digital zone for the driver along with an entirely new presentation elsewhere in the cabin.
Perhaps surprisingly, the rear doors are opened from a rear-hinge, known as suicide doors, presenting a strictly 4 seat configuration with a sporty but elegant finish throughout. It is the most practical production Ferrari ever, and also the most powerful production ICE SUV on the market too. Demand for Purosangue is already vastly outstripping supply, although it's likely that a V6 hybrid derivative will arrive on the market a little further into the production run.
Thanks for watching, Tim
Chapters:
00:00 Intro
01:03 Highlights
03:38 Design & Aero
08:32 Interior
11:54 V12 Engine
13:51 Technology
15:03 Size Comparison
16:20 Pricing
17:18 Final Thoughts
18:24 Wrap Up
#Ferrari #Purosangue #FirstLook
Subscribe:
http://bit.ly/Shmee150YT
Website:
http://www.shmee150.com
Shop:
http://shop.shmee150.com
Instagram:
http://www.instagram.com/shmee150
Facebook:
http://www.facebook.com/shmee150