New PAGANI UTOPIA! First Look at the MANUAL V12 Hypercar
페이지 정보
작성자
관리자

(66.♡.79.113)
댓글
0건
조회
43회
작성일

22-09-13 00:45
본문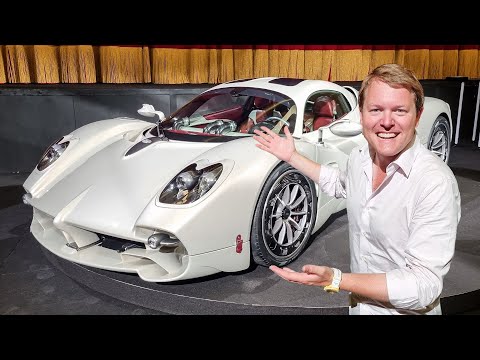 Introducing the brand new Pagani Utopia! The long awaited successor to the Huayra, codename 'C10' has now arrived and been presented to the world. Join me for a full in-depth walkaround from the design, to the technical side and even taking a seat onboard. Welcome to Utopia!
It's not every day that a new Pagani is introduced to the world, but after a long time known purely by the codename 'C10', the final car is here and makes its global debut. Following in some significant footsteps behind the Zonda that launched back in 1999, and the Huayra that was presented in 2011, the new Pagani Utopia starts a 3rd chapter in the company's story.
Horacio Pagani has always been heavily influenced by the work of Leonardo da Vinci, and the location of choice for the presentation is the Teatro Lirico Giorgio Gaber in the heart of Milan, da Vinci's hometown. The public reveal features the Milan Orchestra on stage, with Horacio on piano performing his very own music, as the covers of the Utopia will be pulled back.
Back in 1516, the philosopher Thomas More referenced Utopia as somewhere that does not exist, a place of which we dream, and it's fair to say this accurately describes the new car. Featuring a 6.0 litre twin turbocharged V12 that has been previewed in the Huayra Roadster BC, producing 864hp and 1,100Nm, one big stand out is the inclusion of an option for a 7 speed manual gearbox, or sticking with an updated automated manual option instead.
Utopia pays attention to the details, and these can be found throughout the design of the exterior and interior; whether it's the intricacies of the bodywork, the exquisite finishing of the engine bay, or the exposed skeleton style dials for the interior. It's a timeless product, with a few key objectives; lightness at only 1,280kg, simplicity in the design, and driving emotion with the combination of manual gearbox and V12 engine.
Join me therefore in Milan, Italy, behind the scenes at the launch event to take a first look and discover this glorious creation from one of the finest automobile makers to ever grace the planet.
Thanks for watching, Tim
Chapters:
00:00 Intro
01:02 Initial Walkaround
03:09 Exterior Design
05:33 Interior Design
08:17 Engine Bay
10:41 Wheels & Brakes
11:44 Inside the Cabin
14:07 Final Thoughts
15:32 Wrap Up
#Pagani #Utopia #FirstLook
Subscribe:
http://bit.ly/Shmee150YT
Website:
http://www.shmee150.com
Shop:
http://shop.shmee150.com
Instagram:
http://www.instagram.com/shmee150
Facebook:
http://www.facebook.com/shmee150