$100M HYPERCAR FERRY CROSSING! Risking the Rarest Cars in the World
페이지 정보
작성자
관리자

(66.♡.79.117)
댓글
0건
조회
28회
작성일

22-09-08 01:45
본문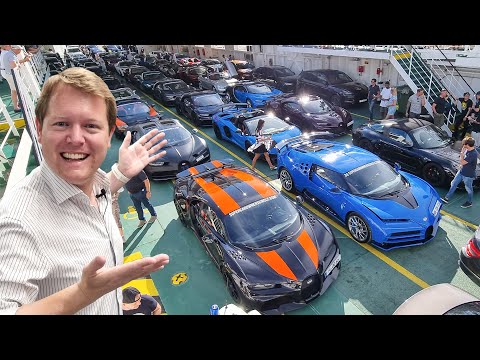 Take a deep breath and hope nothing goes wrong! $100 million of hypercars from the Supercar Owners Circle take a ferry crossing together in Croatia, not a site you'll see very often.
The Supercar Owners Circle convoy of some of the world's most valuable hypercars has been venturing from Zagreb down to Sibenik, and today's route brings us to the island of Pag, and ultimately the short ferry journey back across to the mainland. While it might only be a short ride, you can be sure that it's not often you have $100 million or more of cars on one single ferry.
To see cars like this is rare, to see them actually being driven and used even more so. With rarities including the Bugatti Centodieci, Pagani Zonda Cinque, and Koenigsegg CC8S amongst the pack, we're on board my Zenvo TSR-S to take part in the epic gathering. While we are sadly without a few of the most special cars including the Bugatti La Voiture Noire and Pagani Zonda HP Barchetta, the doesn't stop it being one of the most impressive hypercar convoys ever, with over 10 Bugattis and some very rare cars like the Apollo IE.
After setting off from our lunch checkpoint, it's time to board the ferry before the sailing and incredible run back down the coastal road. I could not have dreamed of a more exciting first tour for my Zenvo, in this kind of convoy and absolutely amazing locations.
Thanks for watching, Tim
Chapters:
00:00 Intro
00:57 The Full Line-up
04:52 My Zenvo TSR-S
07:00 Hypercar Traffic Jam
08:16 Ferry Terminal
11:18 Loading Time
15:24 We're Sailing
17:38 Successful Journey and Unloading
19:34 Coastal Road
23:32 Petrol Problems
26:22 Exhaust Fire Balls
28:33 Back at the Hotel
28:53 Melted Number Plate
29:47 Wrap Up
#SOCCroatia2022 #Hypercar #Ferry
Subscribe:
http://bit.ly/Shmee150YT
Website:
http://www.shmee150.com
Shop:
http://shop.shmee150.com
Instagram:
http://www.instagram.com/shmee150
Facebook:
http://www.facebook.com/shmee150