The WORLD'S MOST EXPENSIVE CARS on the Drag Strip!
페이지 정보
작성자
관리자

(66.♡.79.113)
댓글
0건
조회
29회
작성일

22-09-06 02:15
본문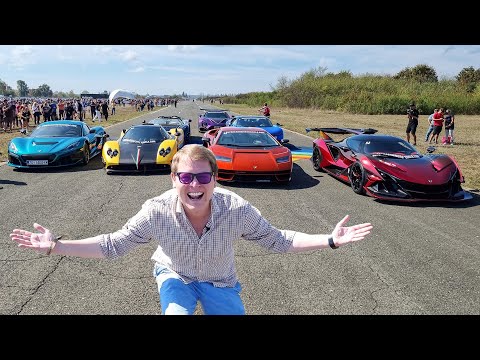 The world's most expensive cars head to the drag strip! We're at Supercar Owners Circle with a feast for the eyes as the most extraordinary hypercars go full throttle on the runway; like the Bugatti La Voiture Noire, Valkyrie AMR Pro, Huayra R, and plenty more, including my Zenvo!
The Supercar Owners Circle Croatia tour sees the most exclusive and rare cars in the world taking part in an unbelievable weekend. With around 60 hypercars including a display of all the greatest Bugattis; La Voiture Noire, Centodieci, Divo, Chiron 300+ and more, plus the Zondas, Huayras and even a Huayra R in the Pagani group too. Then you have the Koenigsegg Regera, Apollo IE, 918 Spyders, and so much more.
Lastly, it's time to put the foot down in my Zenvo for the first time! With the running in mileage almost complete but not yet having had an oil change, it means we can have a bit of fun but not 100% full throttle. Even still, it's more than enough to get a sensation for quite how absurd this car is!
Naturally, this is all in the spirit of fun and non-competitive hence some drivers are certainly keen to preserve the clutches in their cars - understandably so. More than anything else, what a fabulous opportunity to see these cars being pushed and shared with so many onlookers at the event.
Thanks for watching, Tim
Chapters:
00:00 Intro
00:49 Drag Strip Action
05:49 Peace Photoshoot
10:03 Drag Races
10:49 Bugatti Chiron Sport
10:59 Ruf CTR
11:35 Pagani Huayra Roadster BC
12:25 Lamborghini Aventador SV Roadster
13:00 McLaren Senna
13:47 Koenigsegg CC8S
14:26 Porsche 918 Spyder
15:10 Bugatti La Voiture Noire
16:01 Porsche Carrera GT
17:15 Ferrari SF90 Assetto Fiorano
17:39 McLaren Elva
18:07 Chiron vs Nevera
18:36 Pagani Huayra R
19:32 Apollo IE Evo
20:06 Lamborghini Countach
20:44 Koenigsegg Regera
21:05 Pagani Zonda S
21:51 Ferrari 812 Competizione
22:08 Bugatti La Voiture Noire 2nd Drag
23:02 Apollo IE Evo 2nd Drag
23:27 Aston Martin Valkyrie AMR Pro
24:22 Pagani Huayra R 2nd Drag
24:35 Bugatti Chiron
25:01 Bugatti La Voiture Noire 3rd Drag
25:18 Porsche 918 Spyder Onboard Drag
26:35 Zenvo TSR-S
27:46 Wrap Up
#SOCCroatia2022 #DragRacing #Zenvo
Subscribe:
http://bit.ly/Shmee150YT
Website:
http://www.shmee150.com
Shop:
http://shop.shmee150.com
Instagram:
http://www.instagram.com/shmee150
Facebook:
http://www.facebook.com/shmee150