CUSTOMER VALKYRIE DELIVERED! Inside Out with Aston Martin's Ultimate Hypercar
페이지 정보
작성자
관리자

(66.♡.79.113)
댓글
0건
조회
76회
작성일

22-08-14 02:45
본문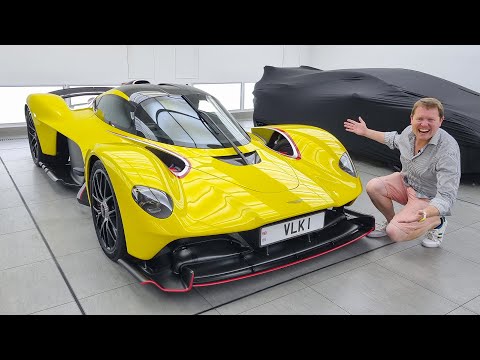 This customer Aston Martin Valkyrie is one of the very first to be delivered, and it's absolutely unreal! Let's check it out in detail with a full tour, even running through the start up process for the V12, and plenty of previously unknown secrets during a visit to @Topaz Detailing.
There are to be 150 Valkyrie Coupes, 85 Spiders and 40 AMR Pro track cars, making it an incredibly exclusive example at the height of engineering. This particular car shines bright in the Sunburst Yellow paintwork and has recently been delivered to the customer, now found at Topaz for full bespoke Paint Protection Film to be installed - on a car with such a high level of aero that even PPF is a relevant factor and needs to be carefully managed.
It's not every day to get to see a car like this, let alone show all of the details inside and out, plus start up the V12 for a sense of the occasion that it will give. It's when you are up close and personal with it, you see the details from the aero work under the surface to how it is packaged and everything squeezed in. Plus, I've never previously been able to explore a bit of the screens and steering controls for even further understanding of how it all works.
A special thanks goes to the owner of this car for making it possible to share this with you in detail, and to Topaz for setting up the opportunity!
Thanks for watching, Tim
Chapters:
00:00 Intro
01:04 Valkyrie Highlights
03:22 The Key
06:55 Gullwing Doors
08:10 Hidden Fuel Filler Cap
08:41 Opening the Engine Bay Cover
10:14 Stepping Onboard
11:31 Interior Tour
12:49 Starting the V12 Engine
17:26 Stepping Out
18:26 Adjust the Seating Position
19:27 Final Thoughts
22:27 Wrap Up
#AstonMartin #Valkyrie #TopazDetailing
Subscribe:
http://bit.ly/Shmee150YT
Website:
http://www.shmee150.com
Shop:
http://shop.shmee150.com
Instagram:
http://www.instagram.com/shmee150
Facebook:
http://www.facebook.com/shmee150