My FIRST DRIVE in the EXTREME Apollo IE 'Red Dragon'!
페이지 정보
작성자
관리자

(66.♡.79.115)
댓글
0건
조회
86회
작성일

22-08-10 03:30
본문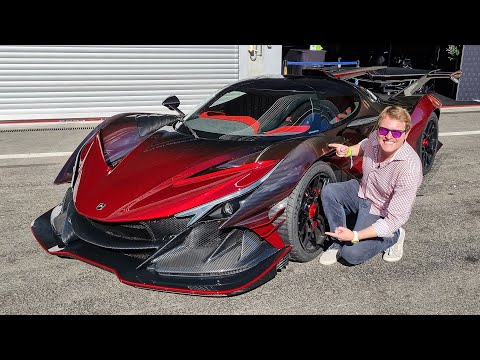 My first drive in the utterly insane Apollo IE 'Red Dragon'! My friend Mike, @Shinmikeyin has taken delivery of his extreme Apollo IE, and on a visit to Spa-Francorchamps, he's surprised me with an opportunity to get behind the wheel on the famous F1 track... there are very few words!
Hot on the heels of my fabulous experience in the Pagani Huayra R track hypercar, we're here with Mike during the Arte in Pista event as his Huayra R is due imminently, however in the meantime he's brought both his Pagani Zonda F and Apollo IE to Belgium for the event. Today is all about the latter though, the Red Dragon as it is nicknamed, that Mike has recently bought and taken delivery of.
The Apollo IE, standing for Intensa Emozione, is one of only 10 being made in total, powered by an 800hp NA V12, with radical design and aero, in a street legal racecar like no other. The drama and intense emotion begins as soon as that engine fires up, with a deafening growl and ready to scream in anger. The seats are fixed as part of the tub, the interior is all bespoke, and the feeling is totally extreme to the max.
After a quick tour with Mike, we're out on the track for some passenger laps before he surprises me as we pull back in to the pitlane with an opportunity to get behind the wheel myself! I cannot thank Mike enough for the trust and opportunity to pilot such a special thing that very few have been lucky to experience.
http://instagram.com/shinmikeyin
Thanks for watching, Tim
Chapters:
00:00 Intro
00:48 Mike's Apollo IE
03:22 Heading onto Track
06:04 Passenger Laps
10:13 My First Drive in Apollo IE
16:28 Return to Pits
18:05 Track Day Vibes
20:07 Red Dragon Spec Details
22:54 Final Thoughts
24:27 Wrap Up
#ApolloIE #SpaFrancorchamps #FirstDrive
Subscribe:
http://bit.ly/Shmee150YT
Website:
http://www.shmee150.com
Shop:
http://shop.shmee150.com
Instagram:
http://www.instagram.com/shmee150
Facebook:
http://www.facebook.com/shmee150