IT'S HERE! My Brand New Zenvo TSR-S in the UK | ROAD TO ZENVO Part 9
페이지 정보
작성자
관리자

(66.♡.79.117)
댓글
0건
조회
5회
작성일

22-06-23 04:45
본문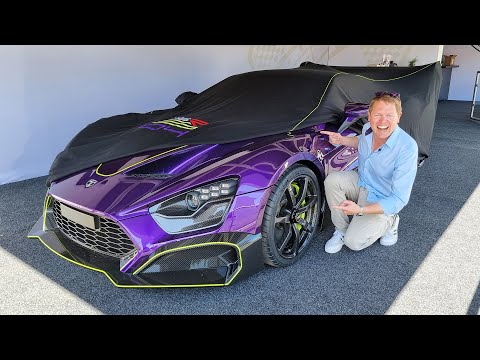 The day has finally arrived to reveal my brand new Zenvo TSR-S in all its glory! After a Shmeemobile convoy to the Goodwood Festival of Speed, my ultimate MEGACAR is presented on the Zenvo stand. It's quite literally a dream come true, what a bonkers machine it is!
This moment is truly special, heading to Goodwood for the Festival of Speed with a number of my cars ahead of seeing the completed TSR-S for the very first time, at such an iconic venue. We've seen it along the way, but now it's here to reveal to everyone!
The Road to Zenvo series has covered the process behind the TSR-S, from initial ideas and specification, through manufacturing and assembly, to now presenting the car itself at one of the most incredible car events in the world. I've been visiting the Goodwood Festival of Speed for over a decade, devoting huge time to the Supercar Paddock, and now the totally surreal experience of my very own car being right here.
The day begins, setting off from @The Shmuseum with my Ford GT, joined by the AMG GT Black Series, Vantage GT8 and C63 Black Series, plus @Vehicle Virgins and @Zachs Garage, while the Senna is transported down to be on the @BOTB stand. It's a beautiful day, and could not be better for such a special outing, and the delivery of my most extreme, most powerful, and most ludicrous Shmeemobile ever.
We've launched our new purple Shmee150 Future Wear carbon fibre sunglasses, with a limited edition of only 75 pairs available, you can get them here:
https://www.future-wear.com/products/shmee150-full-carbon-fibre-lilla-perlemor-polarized-shades-limited-run-only-75-pairs
Thanks for watching, Tim
Chapters:
00:00 Intro
01:09 Delivery Plans
02:33 Load Out
03:36 Convoy to Goodwood Begins
05:18 Senna Incident
06:18 New Purple Sunglasses
06:55 Tunnel Run
08:21 Journey Continues
10:08 Arrival at Goodwood FOS
10:55 Zenvo TSR-S Reveal
15:02 Engine Bay
19:34 Additonal Details
21:04 Wrap Up
#Zenvo #TSRS #NewCar
Subscribe:
http://bit.ly/Shmee150YT
Website:
http://www.shmee150.com
Shop:
http://shop.shmee150.com
Instagram:
http://www.instagram.com/shmee150
Facebook:
http://www.facebook.com/shmee150