DARE TO DREAM GARAGE! The Most Exclusive Collection in Canada
페이지 정보
작성자
관리자

(66.♡.79.115)
댓글
0건
조회
5회
작성일

22-06-19 02:45
본문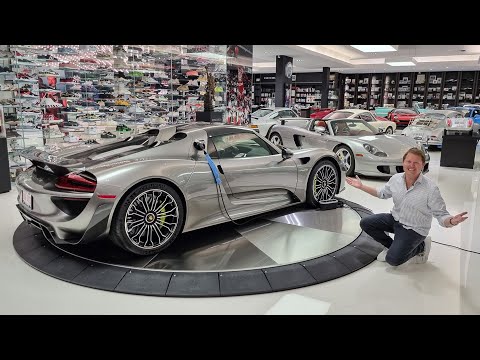 Welcome to the fabulous Dare to Dream Garage, without doubt, the most exclusive collection in Canada! This breathtaking gallery houses an assortment of the finest cars, alongside extensive collections of sneakers, memorabilia, model cars, helmets and more. Prepare to be awestruck!
The display of cars found at the Dare to Dream Garage encapsulate some of the finest marques and models of all time; from the Mercedes 300SL Gullwing and Roadster, to the Ferrari Five (LaFerrari, Enzo, F50, F40, 288 GTO), via a Bugatti Type 35, Jaguar D-Type, Porsche 911 2.7 RS, and everything else between. Beyond the cars themselves, are collections of many types, all showcasing the finest of their category.
For example; the Amalgam 1:8 scale models of the Ralph Lauren collection, to the signed golf bags, sports jerseys, baseball caps and more that adorn the walls. Of particular note is the spectacular sneaker collection housing both a pair of early Nike prototypes, to those worn by Michael Jordan, and some of the rarest and most collectible pairs ever made.
The space itself is immaculate, from the cars placed over the white tiled floor, to the booties that each visitor must slip on to take a tour of the private location. It's not every day that an opportunity arises to share a venue as exquisite as the Dare to Dream Garage, and for that I must extend a sincere thanks to the owner for allowing me to share it with you.
Thanks for watching, Tim
Chapters:
00:00 Intro
01:04 Dare to Dream Garage
05:04 Sneaker Collection
07:24 Model Car Collection
08:50 Ferrari Collection
10:20 Motorsports Collection
12:20 Dare to Dream Workshop
15:00 Wrap Up
#DaretoDream #Toronto #Collection
Subscribe:
http://bit.ly/Shmee150YT
Website:
http://www.shmee150.com
Shop:
http://shop.shmee150.com
Instagram:
http://www.instagram.com/shmee150
Facebook:
http://www.facebook.com/shmee150