페이지 정보
작성자
관리자

(66.♡.79.225)
댓글
0건
조회
8회
작성일

22-06-20 19:14
본문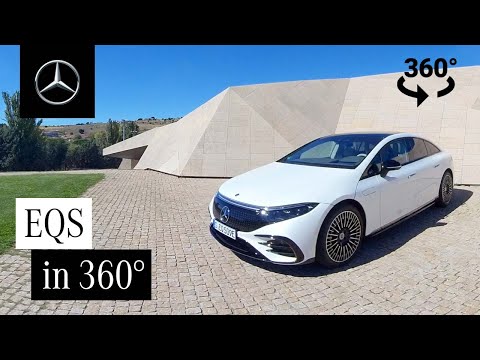 Want to get to know the new EQS? This interactive 360° video allows you to take a look in the innovative and futuristic design of the all-electric saloon from Mercedes-EQ. Subscribe to Mercedes-Benz on YouTube: 
http://www.youtube.com/subscription_center?add_user=MercedesBenzTV
Check out the EQS's all-new electric architecture, which immediately sets it apart from combustion engine cars, before taking a virtual seat inside – where you'll get a genuine feel for the beautifully appointed cabin as well as a close-up view of the amazing MBUX Hyperscreen. You'll also experience the car's remarkable capabilities on the road and the absence of engine noise. Technology, design, power and connectivity – the EQS truly represents comfort and luxury for all senses.
The availability of the communication module (LTE) is temporarily limited for certain vehicles due to supply bottlenecks. Please note that especially Mercedes me connect services including the emergency call system (eCall) are not available in the affected vehicles. Ongoing actual information is available at your Mercedes-Benz dealer.
EQS 580 4MATIC:
WLTP: Stromverbrauch kombiniert: 21,3–17,7 kWh/100 km;
CO₂-Emissionen kombiniert: 0 g/km.*
EQS 450+:
WLTP: Stromverbrauch kombiniert: 19,2–15,6 kWh/100 km;
CO₂-Emissionen kombiniert: 0 g/km.*
► More about the new EQS:
http://mb4.me/eqs-special_ytb
► Experience the world of Mercedes-Benz:
http://benz.me/international
► More interesting Playlists:
EQS:
https://www.youtube.com/playlist?list=PL0ORtgsuktfkP7CJSMDgVLxPggCoEjoZN
EQA:
https://www.youtube.com/playlist?list=PL0ORtgsuktfnrVmocwWx5LtcJo5IgESXy
Mercedes-EQ:
https://www.youtube.com/playlist?list=PL0ORtgsuktflnDzcuLzkkYdAu5VCL-1Ys
► Mercedes-Benz on Social Media:
https://facebook.com/MercedesBenz
https://twitter.com/MercedesBenz
https://instagram.com/mercedesbenz
https://www.linkedin.com/company/merc...
https://www.tiktok.com/@mercedesbenz
#EQS #MercedesEQ #mercedesbenzTV #eqs580 #mercedes #mercedesbenz
Product may vary after press date on 20.06.2022.
* Stromverbrauch und Reichweite wurden auf der Grundlage der VO 692/2008/EG ermittelt. Stromverbrauch und Reichweite sind abhängig von der Fahrzeugkonfiguration. Weitere Informationen zum offiziellen Kraftstoffverbrauch und den offiziellen spezifischen CO₂-Emissionen neuer Personenkraftwagen können dem "Leitfaden über den Kraftstoffverbrauch, die CO₂-Emissionen und den Stromverbrauch aller neuen Personenkraftwagenmodelle" entnommen werden, der an allen Verkaufsstellen und bei der Deutschen Automobil Treuhand GmbH unter
www.dat.de
unentgeltlich erhältlich ist.