Scenic Test Drive of the Innovative New EQE
페이지 정보
작성자
관리자

(66.♡.79.225)
댓글
0건
조회
11회
작성일

22-06-10 17:14
본문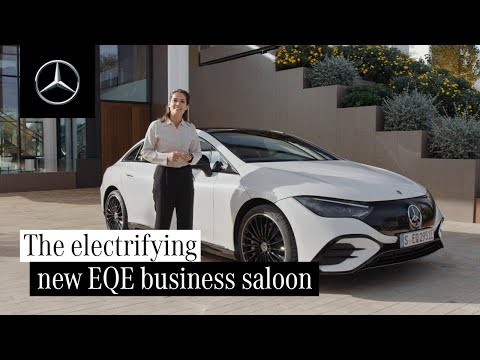 Join us on a scenic ride from Barcelona to the deep-blue Mediterranean Sea and experience the innovative features and the impressive all-electric driving capabilities of the new EQE by Mercedes-EQ. Subscribe:
http://www.youtube.com/subscription_center?add_user=MercedesBenzTV
The EQE leaves nothing to chance. An abundance of assistance and personalisation options translates into high levels of interior luxury. State-of-the-art driver assistance features enhance the famous Mercedes-Benz feeling of safety – there is no doubt that this EV is ready for the future. The sleek, modern design will certainly get some attention as well – as will the impressive MBUX Hyperscreen.
The intelligent Mercedes me charging solution provides you with an extra level of ease during your journey and enables you to easily get access to charging stations, charge the car and pay for the charging session. And while you're charging, the EQE allows you to easily pass the time with a range of mini games on the Hyperscreen.
The availability of the communication module (LTE) is temporarily limited for certain vehicles due to supply bottlenecks. Please note that especially Mercedes me connect services including the emergency call system (eCall) are not available in the affected vehicles. Ongoing actual information is available at your Mercedes-Benz dealer.
EQE 350+ WLTP:
Stromverbrauch kombiniert: 18,6–15,9 kWh/100 km;
CO₂-Emissionen kombiniert: 0 g/km.*
► For direct selection of a specific chapter please select below:
00:00 Intro
01:29 Exterior Design
02:47 MBUX
06:24 Electric Driving Experience
09:00 Interior Luxury
11:24 Safety & Assistance
13:34 Mercedes me
17:36 Outro
► Learn more about the EQE:
http://mb4.me/EQE_webspecial_ytb
► Experience the world of Mercedes-Benz:
http://benz.me/international
► More interesting playlists:
Mercedes-EQ:
https://www.youtube.com/playlist?list=PL0ORtgsuktflnDzcuLzkkYdAu5VCL-1Ys
Electric Drive:
https://www.youtube.com/playlist?list=PL0ORtgsuktfkY_LnNdtlTs_WF9xZ5d2lm
Plug-in Hybrid & Electric Cars:
https://www.youtube.com/playlist?list=PL0ORtgsuktfmgO9IXasYrLoSvZgAl3Zwo
► Mercedes-Benz on Social Media:
https://facebook.com/MercedesBenz
https://twitter.com/MercedesBenz
https://instagram.com/mercedesbenz
https://www.linkedin.com/company/mercedes-benz_ag/
https://www.tiktok.com/@mercedesbenz
#EQE #mercedesEQ #mercedesbenzTV #eqe350 #v295 #eqe2021 #mercedes #mercedesbenz
Product may vary after press date on 10.06.2022.
* Stromverbrauch und Reichweite wurden auf der Grundlage der VO 692/2008/EG ermittelt. Stromverbrauch und Reichweite sind abhängig von der Fahrzeugkonfiguration. Weitere Informationen zum offiziellen Kraftstoffverbrauch und den offiziellen spezifischen CO₂-Emissionen neuer Personenkraftwagen können dem "Leitfaden über den Kraftstoffverbrauch, die CO₂-Emissionen und den Stromverbrauch aller neuen Personenkraftwagenmodelle" entnommen werden, der an allen Verkaufsstellen und bei der Deutschen Automobil Treuhand GmbH unter
www.dat.de
unentgeltlich erhältlich ist.