2019 Hyundai Veloster N Performance Package - POV Track Test & First Impressions
페이지 정보
작성자
관리자

(66.♡.79.246)
댓글
0건
조회
40회
작성일

19-03-05 06:00
본문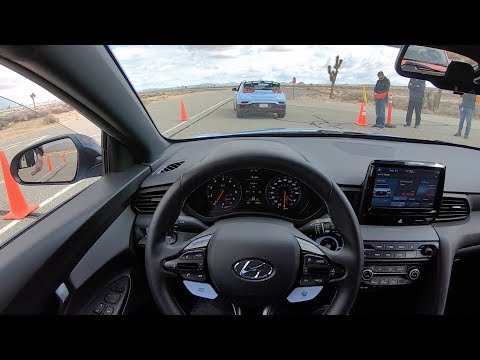 We visit Hyundai's California Proving Grounds for a day at the track in the new 2019 Hyundai Veloster N. Two weeks later, our POV hot-shoe (aka TheTopher) is still grinning.
Performance Package Model Features (MSRP $29,000)
275 horsepower
N Corner Carving Differential (Limited Slip Differential w/ electronic control)
Variable exhaust valve system
19-inch alloy wheels w/ 235/35R19 Pirelli P Zero summer tires
13.6-inch front rotors and 12.4-inch rear rotors (front & rear ventilated)
Right now we're offering our viewers $100 off a purchase of $500 or more at the Winding Road Racing Store. Follow this link for the coupon code
https://goo.gl/4tKMiA
Visit us at
http://www.windingroad.com
and
http://www.windingroadracing.com
Wear headphones! The audio in this video was recorded with in-ear binaural microphones. With headphones or earbuds on, you'll feel like you're actually sitting in the driver's seat.
We upload new videos every week that give quick insight into what our weekly test cars look, feel, and sound like when they're being driven joyfully. If you haven't already, subscribe!
Who we are:
Winding Road Media presents automotive and racing products and information to car enthusiasts.
http://www.windingroadracing.com
offers products and services for car enthusiasts and racers.
Our Racing Channel:
https://www.youtube.com/user/WindingRoadRacing
Winding Road Magazine is a free weekly online magazine written for the car enthusiast, with an intelligent, entertaining perspective. Visit us at
http://www.windingroad.com
Facebook:
https://www.facebook.com/pages/Winding-Road/18921012131