2020 Ram 2500 Laramie Crew Cab 6.7L Cummins Turbo Diesel - POV Test Drive (Binaural Audio)
페이지 정보
작성자
관리자

(174.♡.90.44)
댓글
0건
조회
30회
작성일

20-06-26 22:15
본문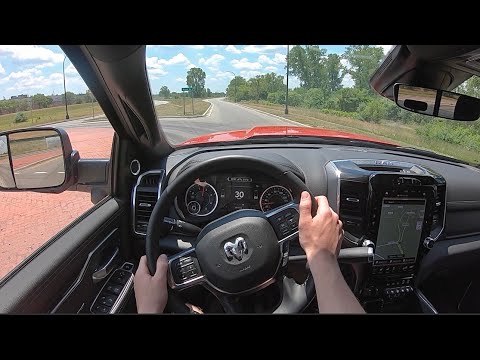 Base price: $52,350 / As-tested: $79,670
MPG: 18 mpg observed
Power: 475 hp / 470 lb-ft
Engine: 6.7-liter I6 Cummins Turbo Diesel
Transmission: 6-speed automatic
Visit us at
http://www.windingroad.com
and
http://www.windingroadracing.com
Wear headphones! The audio in this video was recorded with in-ear binaural microphones. With headphones or earbuds on, you'll feel like you're actually sitting in the driver's seat.
0:00-3:15: Walkaround and interior
3:15-7:12: Driving
7:12-9:11: 0-60 and 60-0
9:11-10:45: Highway
10:45-16:00: Driving, cameras, engine, and wrap
We upload new videos every week that give quick insight into what our weekly test cars look, feel, and sound like when they're being driven joyfully. If you haven't already, subscribe!
Do you drive like we do and always need new tires?
https://bit.ly/2JyRg3j
-Filmed with the GoPro Hero8 Black
https://amzn.to/2GmeGW0
-Binaural Audio recorded with Roland CS-10EM Microphones
http://amzn.to/2qKRbwA
-Zoom H2n recorder
http://amzn.to/2pQqVkq
-Hat Clip mount:
https://amzn.to/2GW7nmd
Who we are:
Winding Road Media presents automotive and racing products and information to car enthusiasts.
http://www.windingroadracing.com
offers products and services for car enthusiasts and racers.
Our Racing Channel:
https://www.youtube.com/user/WindingRoadRacing
Winding Road Magazine is a free weekly online magazine written for the car enthusiast, with an intelligent, entertaining perspective. Visit us at
http://www.windingroad.com
Facebook:
https://www.facebook.com/pages/Winding-Road/18921012131