2019 SPEC MX-5 SimRacing Challenge || iRacing || Watkins Glen - Round 10
페이지 정보
작성자
관리자

(66.♡.79.82)
댓글
0건
조회
36회
작성일

19-09-10 02:58
본문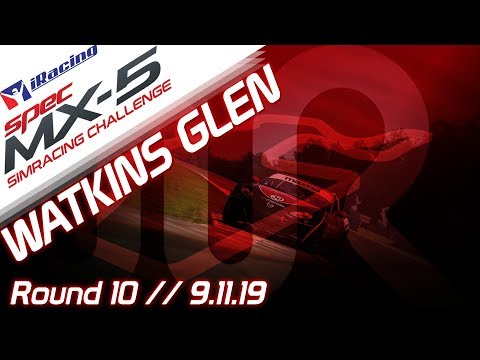 The line between the digital realm of sim racing and real-world racing blurs in the eleven-round SPEC MX-5 SimRacing Challenge! Using the iRacing platform, over 35 drivers will have the opportunity to win a test in a real Spec MX-5 race car, a track day with full team support, or two days with LevelUp Racing School. Prizes are on the line for podium finishers in each race.
The series features two categories, Pro, for drivers racing in real-world series, and Am (short for amateur) for drivers who have little or no real racing experience. Each round will consist of two races - the best performing Am driver at the end of the season in October will be eligible to choose from one of the three main prizes. More information on the series can be found at
https://specmx-5.com/simracing-challenge-faq/
Schedule:
Virginia International Raceway: 2/27/2019 - Completed
Summit Point Raceway 3/27/2019 - Completed
Circuit of the Americas: 4/24/2019 - Completed
WeatherTech Raceway Laguna Seca - Completed
Sonoma Raceway: 6/5/2019 - Completed
Mid-Ohio: 5/26/2019 - Completed
Road Atlanta: 7/17/2019 - Completed
Road America: 8/7/2019 - Completed
Sebring: 8/21/2019 - Completed
Watkins Glen: 9/11/2019
Road Atlanta: 10/23/2019
A special thank you to the people that make this possible and have provided the prizes for each race and for the champion.
Spec MX-5 Racing:
https://specmx-5.com/
Ricmotech:
https://www.ricmotech.com/
LevelUp Racing School:
http://levelupracingschool.com/
Paradigm Shift Racing:
https://www.paradigmshiftracing.com/
Winding Road:
https://www.windingroad.com/
SPEC MX5 Livery by Steven Burbage
These broadcasts are produced by Kyle Heyer & Finian Dcunha
SYM TV:
https://www.youtube.com/symtvbroadcasting
Other Credits:
'18 MX-5 Provided by Matthews Imports of Binghamton, New York
Music:
www.bensound.com