2019 Genesis G70 2.0T Sport (6-Speed Manual) - POV Test Drive
페이지 정보
작성자
관리자

(5.♡.44.47)
댓글
0건
조회
99회
작성일

19-04-22 01:30
본문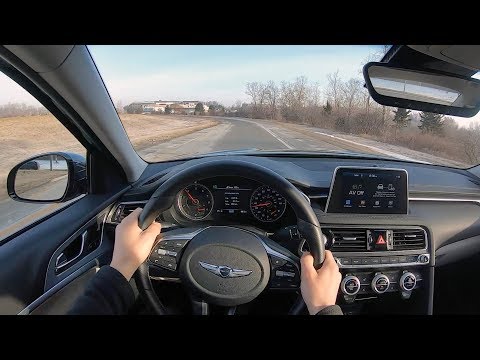 Recorded in binaural audio, headphones recommended.
Price as tested: $38,895
Horsepower: 255 hp Torque: 260 lb-ft
MPG: 18 city / 28 highway
Curb weight: 3,580 lbs
Engine: 2.0 L 4-cylinder, 6-speed manual transmission w/limited-slip differential
Wheel size: Front 19x8; rear 19x8.5″
Dimensions:
Wheelbase: 111.6 in
Length: 184.4 in
Width: 72.8 in
Height: 55.1 in
Right now we're offering our viewers $100 off a purchase of $500 or more at the Winding Road Racing Store. Follow this link for the coupon code
https://goo.gl/4tKMiA
Visit us at
http://www.windingroad.com
and
http://www.windingroadracing.com
Wear headphones! The audio in this video was recorded with in-ear binaural microphones. With headphones or earbuds on, you'll feel like you're actually sitting in the driver's seat.
We upload new videos every week that give quick insight into what our weekly test cars look, feel, and sound like when they're being driven joyfully. If you haven't already, subscribe!
Who we are:
Winding Road Media presents automotive and racing products and information to car enthusiasts.
http://www.windingroadracing.com
offers products and services for car enthusiasts and racers.
Our Racing Channel:
https://www.youtube.com/user/WindingRoadRacing
Winding Road Magazine is a free weekly online magazine written for the car enthusiast, with an intelligent, entertaining perspective. Visit us at
http://www.windingroad.com
Facebook:
https://www.facebook.com/pages/Winding-Road/18921012131