FIRST DRIVE: GMA T.50 – McLaren F1 Successor's 900-mile road trip
페이지 정보
작성자
관리자

(207.♡.13.156)
댓글
0건
조회
21회
작성일

23-11-21 01:00
본문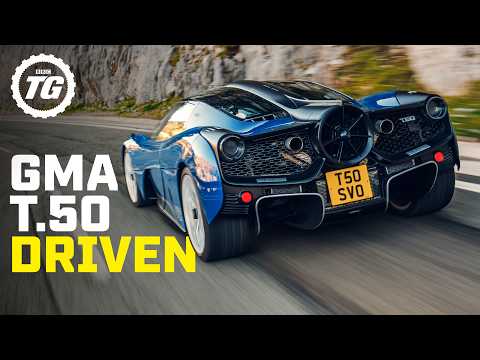 Get ready for a sensory bombardment as Top Gear Magazine's Head of Car Testing, Ollie Marriage, embarks on a 900-mile adventure, from Barcelona to Bilbao, via the stunning mountain roads of the Spanish Pyrenees. Follow as he delves into the T.50's driving dynamics, from the exhilarating scream of that naturally aspirated V12 engine to the joyous shifts of the manual gearbox.
Designed to honour-but-improve on the iconic McLaren F1, the T.50 is a symphony of engineering purity, weight-saving purges and mechanical artistry. In Ollie's view, it is the best driver's car in the world, and it might never be bettered...
Subscribe to Top Gear for more videos:
http://bit.ly/SubscribeToTopGear
WATCH MORE TOP GEAR:
First Looks:
https://bit.ly/TGFirstLooks 
First Drives:
https://bit.ly/TGFirstDrives
American Tuned ft. Rob Dahm:
https://bit.ly/TGAmericanTuned
LISTEN to the Top Gear Magazine Podcast:
https://topgear.podlink.to/Podcast
Sign up for our newsletter:
https://www.topgear.com/newsletter-signup
00:00 Intro
02:13 Operational Briefing
05:02 First Drive
07:42 Tunnels ????
08:54 Driving Position/ergonomics
10:50 Mountain Roads
15:58 Design
21:33 Conclusion
MORE ABOUT TOP GEAR:
Welcome to the official home of Top Gear on YouTube. Here you'll find all the best clips from your favourite episodes, whether that's Ken Block drifting London in the Hoonicorn, Chris Harris in the latest Porsche 911 GT3 or classic Top Gear clips from Clarkson, Hammond and May. You'll also find the latest performance car reviews from the TopGear.com crew, our brand new series American Tuned with Rob Dahm and the fastest power laps from our in house performance benchmark: The Stig.
This is a commercial channel from BBC Studios.
Service & Feedback
https://www.bbcstudios.com/contact/contact-us/