Subaru Huckster GYMKHANA ft. Travis Pastrana + 1000bhp HUMMER EV
페이지 정보
작성자
관리자

(52.♡.144.234)
댓글
0건
조회
18회
작성일

23-11-18 19:49
본문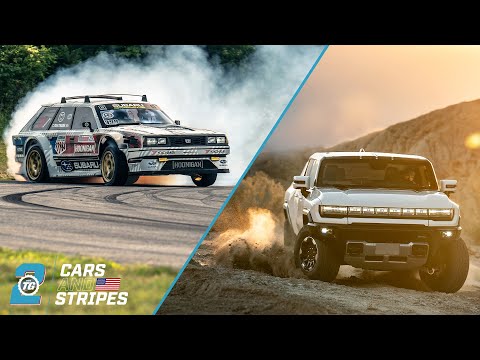 Not all driving instructors are made the same. Travis Pastrana, for example – not massively concerned with parallel parking or correct use of indicators, but having all four tyres fully lit at all times is non-negotiable. Watch on to find out what happened when Jethro Bovingdon met Travis and took a 1983 Subaru GL wagon with 862bhp, aka The Family Huckster, for a spin...
ALSO IN EPISODE ONE: The new GMC Hummer EV. It's not exactly subtle, is it? The $110k Edition 1 model Jack Rix borrowed for an epic roadtrip from Palm Springs to Bagdad had three motors – two at the back, one at the front – producing 1,000bhp and 1,200lb ft of torque. It could do 0–62mph in 3.0secs. And that's not the scary bit. Because it weighs... wait for it... about 4,100kg.
So strap in for 30-minutes on the above, and much more - and as ever, let us know your thoughts on episode one of TG2 and we'll see you next Sunday for more...
Subscribe to Top Gear for more videos:
http://bit.ly/SubscribeToTopGear
WATCH MORE TOP GEAR:
First Looks:
https://bit.ly/TGFirstLooks 
First Drives:
https://bit.ly/TGFirstDrives
American Tuned ft. Rob Dahm:
https://bit.ly/TGAmericanTuned
LISTEN to the Top Gear Magazine Podcast:
https://topgear.podlink.to/Podcast
Sign up for our newsletter:
https://www.topgear.com/newsletter-signup
Chapters:
MORE ABOUT TOP GEAR:
Welcome to the official home of Top Gear on YouTube. Here you'll find all the best clips from your favourite episodes, whether that's Ken Block drifting London in the Hoonicorn, Chris Harris in the latest Porsche 911 GT3 or classic Top Gear clips from Clarkson, Hammond and May. You'll also find the latest performance car reviews from the TopGear.com crew, our brand new series American Tuned with Rob Dahm and the fastest power laps from our in house performance benchmark: The Stig.
This is a commercial channel from BBC Studios.
Service & Feedback
https://www.bbcstudios.com/contact/contact-us/