TG2: Cars and Stripes | OFFICIAL TRAILER
페이지 정보
작성자
관리자

(40.♡.167.241)
댓글
0건
조회
17회
작성일

23-11-18 04:50
본문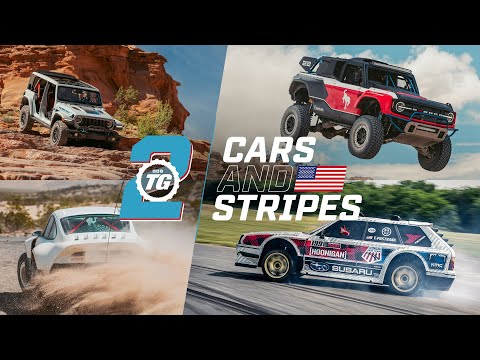 Top Gear is coming to America! Well, technically, we've already been... to film a new YouTube series called TG2: Cars and Stripes, coming to your screens THIS Sunday 19 Nov. The premise is simple: two British blokes – Jack Rix (TG magazine's editor-in-chief) and Jethro Bovingdon (renowned car journalist and presenter of Top Gear America) – driving American cars... in, er, America.
Prepare for highs and lows, EVs and dirty great V8s, races and challenges, driving skills and driving spills with some friendly-ish armchair debate in-between. Get your star spangled brave pants on, because here's what to expect across the five 30-minute episodes we've got coming up...
Includes: Singer ACS, Ford Bronco DR, Ruffian Mustang, Mustang Shelby GT500-H, Bronco Raptor, Hummer EV, Travis Pastrana and much more!
Subscribe to Top Gear for more videos:
http://bit.ly/SubscribeToTopGear
WATCH MORE TOP GEAR:
First Looks:
https://bit.ly/TGFirstLooks 
First Drives:
https://bit.ly/TGFirstDrives
American Tuned ft. Rob Dahm:
https://bit.ly/TGAmericanTuned
LISTEN to the Top Gear Magazine Podcast:
https://topgear.podlink.to/Podcast
Sign up for our newsletter:
https://www.topgear.com/newsletter-signup
MORE ABOUT TOP GEAR:
Welcome to the official home of Top Gear on YouTube. Here you'll find all the best clips from your favourite episodes, whether that's Ken Block drifting London in the Hoonicorn, Chris Harris in the latest Porsche 911 GT3 or classic Top Gear clips from Clarkson, Hammond and May. You'll also find the latest performance car reviews from the TopGear.com crew, our brand new series American Tuned with Rob Dahm and the fastest power laps from our in house performance benchmark: The Stig.
This is a commercial channel from BBC Studios.
Service & Feedback
https://www.bbcstudios.com/contact/contact-us/