McLaren 750S: 6 BIG Improvements Over The 720S | Top Gear
페이지 정보
작성자
관리자

(40.♡.167.22)
댓글
0건
조회
24회
작성일

23-11-17 09:00
본문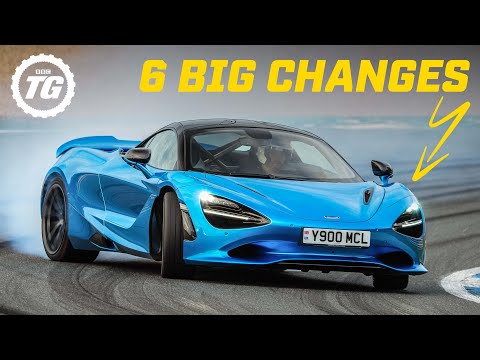 Yes, it's another new McLaren supercar that looks… exactly like the old McLaren supercar. But the idea with the new 750S isn't to blow the poor old 720S into the middle of last week. No, the game plan here is to take what was already one of the very finest supercars on sale and fine-tune its foibles. So there's a little more power from the 4.0-litre twin-turbo V8 here. And a little more bandwidth in the suspension there. More downforce. Less weight. But none of that matters. What's crucial is that McLaren ups the fit and finish, irons out the foibles, and turns its brilliantly useable supercar into something you'd really fancy daily driving – even though it's got more power than a P1 (minus the electric).
A tricky mixture to concoct. Top Gear magazine's Ollie Kew has driven the 750S coupe on track and the Spider on the road to see if the British Ferrari rival has pulled it off.
Subscribe to Top Gear for more videos:
http://bit.ly/SubscribeToTopGear
WATCH MORE TOP GEAR:
First Looks:
https://bit.ly/TGFirstLooks 
First Drives:
https://bit.ly/TGFirstDrives
American Tuned ft. Rob Dahm:
https://bit.ly/TGAmericanTuned
LISTEN to the Top Gear Magazine Podcast:
https://topgear.podlink.to/Podcast
Sign up for our newsletter:
https://www.topgear.com/newsletter-signup
Chapters:
00:00 Intro
01:20 More Power
03:43 Even Cleverer Suspension
04:54 The Looks
07:00 Less Annoying Inside
09:15 The Noise
10:23 Ownership
MORE ABOUT TOP GEAR:
Welcome to the official home of Top Gear on YouTube. Here you'll find all the best clips from your favourite episodes, whether that's Ken Block drifting London in the Hoonicorn, Chris Harris in the latest Porsche 911 GT3 or classic Top Gear clips from Clarkson, Hammond and May. You'll also find the latest performance car reviews from the TopGear.com crew, our brand new series American Tuned with Rob Dahm and the fastest power laps from our in house performance benchmark: The Stig.
This is a commercial channel from BBC Studios.
Service & Feedback
https://www.bbcstudios.com/contact/contact-us/