FIRST DRIVE: Ferrari SF90 XX – 1,016bhp Road Legal XX!
페이지 정보
작성자
관리자

(34.♡.82.69)
댓글
0건
조회
18회
작성일

23-11-15 08:00
본문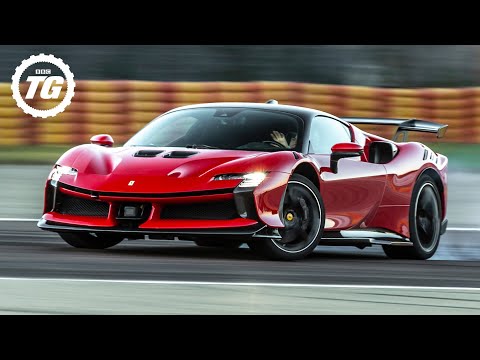 This is the new SF90 XX, and it's very fast indeed. It has 1016bhp. It has double the downforce of the regular SF90. It's also lighter. It does 0-62mph in 2.3secs. But there's one main thing that absolutely sets this XX apart from all the others. It's road legal. The first ever XX car to be able to drive, well, anywhere you like really.
But what about its track credentials? It happened to lap Fiorano in 1.17.3, making it Ferrari's fastest-ever road car around their home circuit, 1.7 seconds ahead of the SF90.
In total 1398 cars are being built, split between 799 Stradales (at £673,584 a pop) and 599 Spiders (each £730,000). A quick reminder that a base SF90 is £376k.
Top Gear Magazine's Head of Car Testing, Ollie Marriage, had the tough job of seeing what it's like to drive.
Subscribe to Top Gear for more videos:
http://bit.ly/SubscribeToTopGear
WATCH MORE TOP GEAR:
First Looks:
https://bit.ly/TGFirstLooks 
First Drives:
https://bit.ly/TGFirstDrives
American Tuned ft. Rob Dahm:
https://bit.ly/TGAmericanTuned
LISTEN to the Top Gear Magazine Podcast:
https://topgear.podlink.to/Podcast
Sign up for our newsletter:
https://www.topgear.com/newsletter-signup
Chapters:
MORE ABOUT TOP GEAR:
Welcome to the official home of Top Gear on YouTube. Here you'll find all the best clips from your favourite episodes, whether that's Ken Block drifting London in the Hoonicorn, Chris Harris in the latest Porsche 911 GT3 or classic Top Gear clips from Clarkson, Hammond and May. You'll also find the latest performance car reviews from the TopGear.com crew, our brand new series American Tuned with Rob Dahm and the fastest power laps from our in house performance benchmark: The Stig.
This is a commercial channel from BBC Studios.
Service & Feedback
https://www.bbcstudios.com/contact/contact-us/