Protecting My FORD GT! The World's Best PPF
페이지 정보
작성자
관리자

(66.♡.65.114)
댓글
0건
조회
56회
작성일

19-01-09 03:00
본문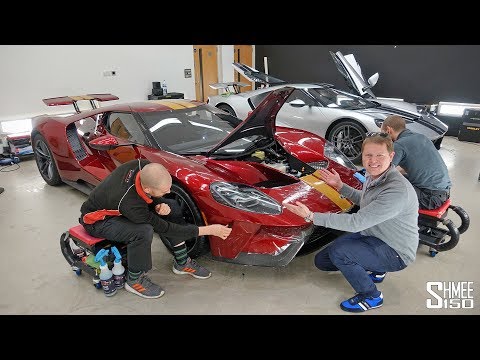 A vital part of getting my Ford GT ready and set for the road is to install PPF at Topaz! After dropping the car with the team, I catch up with Nabil to inspect the results of the detailing before the PPF installation process gets underway... in some pretty spectacular company!
To produce the best possible paint finish, the Topaz team have given the Ford GT a complete machine polish with multiple stages to really bring out the depth and create a mirror-like finish while removing any defects from the surface. After an inspection with Nabil from Topaz to see the results, I then go for an exploration of the workshop that's currently loaded with many very special cars including a Koenigsegg One:1, another Ford GT (out of a small number in the UK!) and both a McLaren P1 and Senna - safe to say my car is in amazing company.
Next we talk about how the PPF process works for a car like the Ford GT, something that's incredibly bespoke and requires templates to be made that can cover the entirety of the car. This is important to protect it for the future and ensure it will always look
its best possible. Then it's time to show parts of the process behind installing PPF and how exactly you protect such a car in this way, with the film vanishing upon completion and being almost invisible to the human eye.
Nabil then takes us over to the new unit that is currently under development to give an insight into what's coming next for Topaz - and exciting things are certainly coming on the horizon.
You can also find out more about Topaz with the following links:
http://topazdetailing.com
http://instagram.com/topazdetailing
http://facebook.com/topazdetailing
Naturally, it's a process that takes a bit of time so the car is in their safe hands to be finished and hopefully ready for collection in the not too distant future!
Thanks for watching, Tim
Subscribe:
http://bit.ly/Shmee150YT
Website:
http://www.shmee150.com
Facebook:
http://www.fb.com/shmee150
Instagram:
http://www.instagram.com/shmee150