RACING the LAS VEGAS F1 TRACK at 170mph! Flat Out with the Aston Martin DBX707
페이지 정보
작성자
관리자

(34.♡.82.71)
댓글
0건
조회
19회
작성일

23-11-21 04:30
본문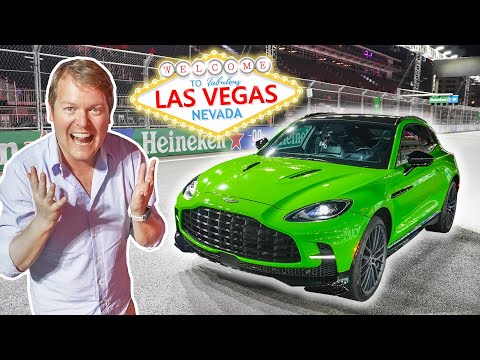 170mph+ on the Las Vegas Strip in an Aston Martin DBX707, let's go! The Formula 1 Grand Prix weekend has arrived in Nevada, and sin city plays host to the F1 grid under the night lights. Join me for a dream experience at the wheel of the Kermit Green super-SUV in the most unreal place!
The DBX707 came along as an update to Aston Martin's DBX SUV, boosting power to 707hp (697bhp) from the 4.0l TT V8 thanks to new turbos and software, along with a significantly more aggressive appearance and sportier driving dynamics. Prior to Las Vegas, I had been yet to drive the car and a more exciting opportunity could not have been possible!
The inaugural F1 race in Las Vegas has brought plenty of discussion, excitement, and unique elements to the calendar. With a 17 corner, 6.2km circuit that loops around the MSG Sphere and featuring the longest straight of the year at almost 2km. However, aside from the F1 drivers and those running the hot-laps; the likes of Darren Turner, very few have had the opportunity to pilot a car around at speed.
After collecting the incredibly bright green SUV, it's a quick familiarisation drive towards the Las Vegas Boulevard, ahead of the action getting underway. My first port of call is to then join Darren for a hot-lap and an opportunity to get a feel for what the circuit is like before I'll be let loose. Immediately following the F1 Qualifying session, it's then my turn to go, and what an unbelievable experience it is!
With the bright lights of the city, the Sphere in operation, and the madness of the Strip, this has been one of the most immense and unique opportunities ever. A huge thanks goes to Aston Martin for the chance to experience this, and to those at FOM who have made it possible to bring the camera along to share it with you; effectively a total first for this kind of activity.
Thanks for watching, Tim
FORMULA 1® images © Formula One World Championship Limited 2023
Chapters:
00:00 Intro
01:27 DBX707 Walkaround
02:37 Let's Get Started
04:41 Interior Details
05:48 Las Vegas Vegas Strip
06:52 Hot Lap Experience
09:35 My F1 Track Drive
18:49 Final Thoughts
19:16 Wrap Up
#AstonMartin #Formula1 #LasVegas
WATCH NEXT:
???? COMPLETE TOUR of My Car Collection! 2023; 13 Years of YouTube
https://youtu.be/CBAbD9PD24g
???? BUGATTI vs KOENIGSEGG! Drag Racing the WORLD'S MOST EXPENSIVE CARS
https://youtu.be/iRFJAKY2mLw
???? IT'S HERE! Collecting My New FERRARI 296 GTS
https://youtu.be/YP4zIl95BmA
SHMEE150 GEAR:
???? Filming Equipment -
https://kit.co/Shmee150/youtube-filming-gear-2023
???? What's In My Bag -
https://kit.co/Shmee150/in-my-bag
???? Car Maintenance -
https://kit.co/Shmee150/shmeemobile-car-maintenance
SUPPORT SHMEE150:
???? eBay Shop -
https://www.ebay.com/usr/shmee150
???? Merch Store -
http://cheers.shmee150.com
???? Model Cars, Sunglasses & More -
https://shmee150.com/affiliate-shop
SHMEE150 PARTNERS:
???? Car Finance -
https://www.approvedmotorfinance.co.uk/shmee150
???? BOTB Win Your Dream Car -
https://www.botb.com/shmee150
???? Topaz Detailing -
http://www.topazdetailing.com
????️ Vehicle Tracking -
https://globaltelemetrics.com
???? Currency Solutions
http://www.currencysolutions.co.uk/shmee150
OTHER SHMEE150 CHANNELS:
???? The Shmuseum -
http://youtube.com/theshmuseum
???? Shmeebites -
http://youtube.com/shmeebites
⌚ Shwatch150 -
http://youtube.com/shwatch150
FIND SHMEE150 ONLINE:
???? Website -
http://www.shmee150.com
???? Instagram -
http://instagram.com/shmee150
???? Facebook -
http://facebook.com/shmee150
???? TikTok -
https://tiktok.com/@shmee150
WORK WITH SHMEE150:
???? Advertise -
https://shmee150.com/advertise-on-shmee150