BUYING a Ferrari 458 for My Collection?!
페이지 정보
작성자
관리자

(17.♡.113.209)
댓글
0건
조회
8회
작성일

22-05-11 02:00
본문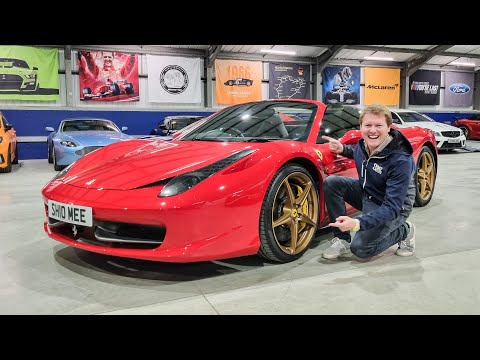 Could a Ferrari 458 be a future addition to the collection!? My friend Christian from BOTB, has bought his dream car and stops by @The Shmuseum to talk all about it. My first YouTube video featured a 458 Italia, there's just something about it, what about a 458 in the future?!
Christian is well known for regularly surprising the winners of BOTB competitions with their prizes, however this time around he's now bought his very own dream car in the form of the Ferrari 458 Spider. Having long considered one for my own collection considering my first ever YouTube video featured a 458 alongside a Lamborghini Murcielago SV, it's the perfect opportunity to get back behind the wheel for the first time in 7 years, and a reminder of what it's all about.
After the red prancing horse arrives at the stable, let's talk about what it means to him, why the 458 was his dream and what's it like to now own it. Then we head out for a drive, swapping around along the way, for me to see if it's right to add to the Shmeemobiles one day.
You can win your dream car too! At BOTB there are two dream car winners every single week and tickets start at just 55p! You could also win up to £50,000 cash in the boot! Enter today and Christian could be surprising you in just a few days!
https://bit.ly/3LQBCMX
Thanks for watching, Tim
Chapters:
00:00 Intro
01:24 My 458 History
02:37 Christian Arrives
03:18 458 Spider Walkaround
09:30 This Week on BOTB
10:27 458 Spider Ride
13:35 My Drive in the 458
20:28 The Rain Begins
23:35 Tunnel Run
24:52 Return to the Shmuseum
25:33 Shmee Plate on a 458
27:27 Wrap Up
#Ferrari #458Spider #DreamCar
Subscribe:
http://bit.ly/Shmee150YT
Website:
http://www.shmee150.com
Shop:
http://shop.shmee150.com
Instagram:
http://www.instagram.com/shmee150
Facebook:
http://www.facebook.com/shmee150