Collecting the Most OUTRAGEOUS New Car EVER! The Very Last Lotus Elise Cup 250 Final Edition
페이지 정보
작성자
관리자

(54.♡.50.123)
댓글
0건
조회
8회
작성일

22-05-09 02:00
본문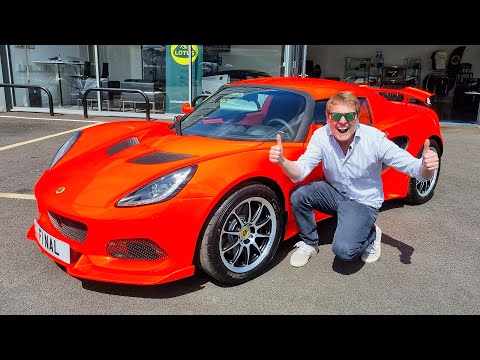 This car is beyond outrageous! Join me to collect the very last Lotus Elise EVER, this absolutely insane Elise Cup 250 Final Edition in Luminous Orange (RAL 2005), and bringing it back to @The Shmuseum. I've never, ever seen a colour like it on a car!
My friend, whose privacy will be respected, is the owner of this truly unique piece of history in the form of the very last Lotus Elise, a car that has been quite a project in its own right. After a 25 year production run, the Elise has been a mainstay for Lotus and a huge responsibility for the company's success over time, but now we arrive at the end and what a way to send it off.
The Elise Cup 250 Final Edition itself is the last send off for the Lotus Elise model, the final dynamic derivative with 250hp from the 1.8l supercharged 4-cylinder engine, stripped weight down to just 931kg, and a host of aero upgrades on the exterior. However, with this car it's all about the specification and the absolutely ludicrous paintwork of this final car. Officially it is called Luminous Orange (RAL 2005), which was first used by Lotus for their Indycars in the late 1960s, before it also featured on the prototypes of the Lancia Stratos and Porsche 911 2.7 RS. It's a 14 layer paint process, and in some countries is even illegal due to being reserved for emergency services only due to quite how bright and outrageous it actually appears.
For the collection, we're heading to Bell & Colvill, the very same company responsible for delivering the first ever Elise S1 back at the start of production, and now also the very last ever Elise Cup 250 Final Edition to bookend this fabulous story. You may remember I actually filmed and announced the spec for my inbound Lotus Emira First Edition from their other showroom in fact, the car of which I'll take delivery of in approximately 2 months.
My friend has very kindly invited me to be the custodian of this car for the time being, from collection and running it in, to sharing these experiences with you. He's keen that the car is not a garage queen and it will be both enjoyed and shared with many, to appreciate the story and what it represents. This means you'll be seeing a lot of it at The Shmuseum and in videos to come!
You can read more about the delivery here:
https://www.thesupercarblog.com/last-lotus-elise-cup-250-final-edition-from-factory-to-delivery/
Thanks for watching, Tim
Chapters:
00:00 Intro
01:31 Plans for the Day
02:50 Preparing the GTC4Lusso
03:31 Cruising to Heathrow
04:31 Arriving at Bell & Colville
04:59 The Reveal
07:13 Walkaround in Detail
09:20 Signing the Bulkhead
10:08 Out into the Sunshine
11:17 First Drive
15:59 Motorway Traffic
19:30 Arrival at The Shmuseum
19:50 Under the Lights
21:33 Plans Ahead
22:17 Wrap Up
#Lotus #Elise #LuminousOrange
Subscribe:
http://bit.ly/Shmee150YT
Website:
http://www.shmee150.com
Shop:
http://shop.shmee150.com
Instagram:
http://www.instagram.com/shmee150
Facebook:
http://www.facebook.com/shmee150