New AMG GT TRACK SERIES! My EXCLUSIVE FIRST DRIVE in the EXTREME Track Toy
페이지 정보
작성자
관리자

(66.♡.79.225)
댓글
0건
조회
36회
작성일

22-05-08 02:00
본문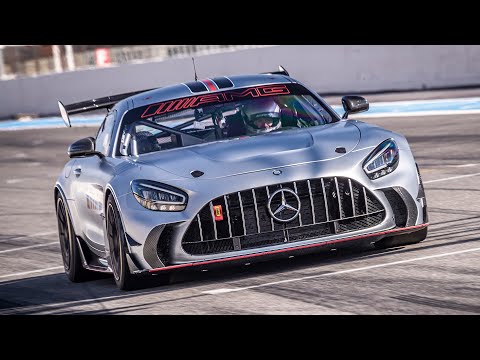 You can't get much more extreme than experiencing the brand new AMG GT Track Series at Paul Ricard! Join me at the F1 circuit in France, for a first drive in the super-exclusive, ultimate track toy based on the AMG GT Black Series. Hold on tight!
Mercedes-AMG are only offering 55 examples of the GT Track Series, celebrating the 55th anniversary of the company, having been founded back in 1967. The Track Series name designation is evidently a sign of things to come, in this case based on the formula of the GT Black Series for the road, but without the need for road homologation, meaning slightly more power, even more aero, and of course slick tyres amongst many adjustable elements; the rebound and compression of the Bilstein Dampers, the ride height, anti-roll bars etc.
The 4.0l biturbo V8 goes up to 734hp, and weight down to 1,400kg, with everything you'd want to have in the ultimate trackday toy. We'll take a full look around the GT Track Series in the pit boxes during the Curbstone day at Paul Ricard, before it's time for some sighting laps and a full experience.
Very few words can fully encapsulate what this is like, so let the video do the talking!
Thanks for watching, Tim
Chapters:
00:00 Intro
00:47 AMG GT Track Series Walkaround
05:26 First Sighting Laps
09:14 Flat Out on Track
15:46 Out of the Car
17:11 Sharing More Thoughts
21:17 Final Walkaround and Interior
24:04 Wrap up
#AMG #GTTrackSeries #PaulRicard
Subscribe:
http://bit.ly/Shmee150YT
Website:
http://www.shmee150.com
Shop:
http://shop.shmee150.com
Instagram:
http://www.instagram.com/shmee150
Facebook:
http://www.facebook.com/shmee150