HYPERCAR TAKEOVER! The Most Epic Car Show of the Year
페이지 정보
작성자
관리자

(114.♡.129.158)
댓글
0건
조회
3회
작성일

20-09-06 04:00
본문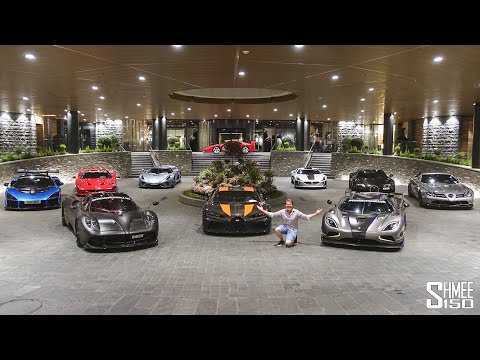 I've never seen anything like it! There are hypercar events, and then there's the insane Supercar Owners Circle weekend in Gstaad, Switzerland, overloaded with Bugattis, Koenigseggs, Paganis and other incredible cars. Join me with my Senna in the parade before a full garage tour to take in the complete line-up and check out the Fahrengold Carpad that might be a good idea for the Shmuseum?!
https://fahrengold.com
Supercar Owners Circle run the most amazing events around the year, but in particular their Gstaad Weekend has always looked set to be exceptional following the cancellation of so many planned things earlier in the year. Needless to say, as the crazy cars descend upon the location, it does not disappoint. Ahead of some drag races and closed road convoys, all of the cars arrive for a parade and then to be parked between the two locations for us to explore.
It's almost impossible to list everything, the line-up stretches from almost 20 Koenigseggs including the Jesko Absolut, Gemera, 2 One:1s, multiple Regeras and more, to more than 10 Paganis including a Zonda Cinque, Zonda Unica, Huayra BC, multiple Huayra Roadsters and so forth. Along the way there are plentiful numbers of Bugattis including the Chiron Super Sport 300+, Veyron Vitesse WRC, Veyron Super Sport, and more Veyrons and Chirons. Elsewhere in the garage we have the Ferrari LaFerrari, Enzo, F50, F40 and F40 LM, a set of 4 McLaren Sennas including mine, multiple Porsche Carrera GTs, 918 Spyder, Rimac Concept_one and C_two, classic Astons including DB4, DB4 GT, DB5 and the Valhalla. This is not by any means a full list, there is just too much to take in!
Upon arrival, no sooner than we've checked in and got signed on, it's time to jump into the Senna for the parade to get started. After watching a large number of the cars getting on the way, off we go, giving chase to the Koenigsegg One:1 from Esser Automotive, and a Pagani Huayra. Upon return, it's time to investigate what lies in the garage that will be playing host to the gala dinner before a spontaneous late night photoshoot that blows the mind away!
The Fahrengold Carpad serves the purposes of both staging and securing a parked vehicle, ideal for either a museum type environment or a public parking storage. With custom illumination it focuses the look on a vehicle, and also has the option for additional security with cameras, motion sensors, and connectivity to push notifications. With the Senna parked on a demonstration Carpad, there's no question this could look fantastic as part of the future Shmeemuseum setup! You can find out more at:
https://fahrengold.com
Thanks for watching, Tim
Subscribe:
http://bit.ly/Shmee150YT
Website:
http://www.shmee150.com
Shop:
http://shop.shmee150.com
Instagram:
http://www.instagram.com/shmee150
Facebook:
http://www.facebook.com/shmee150