Check Out the New Alfa Romeo GTAm! | FIRST LOOK
페이지 정보
작성자
관리자

(66.♡.79.104)
댓글
0건
조회
12회
작성일

20-07-30 18:30
본문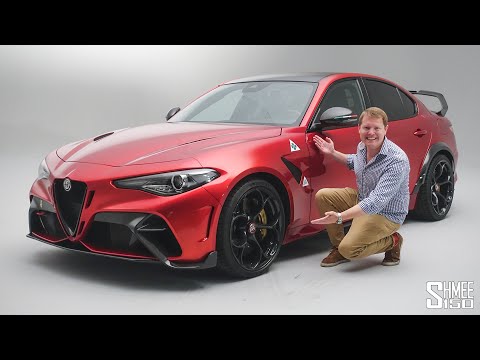 This is the brand new Alfa Romeo GTAm! The limited edition track super-saloon boasts an aggressive design, totally focused interior, and takes the Giulia to new heights. Let's take a first look walkaround at the new model in detail to discover all about it.
Alfa Romeo have a fantastic motorsport history and in their 110th anniversary, the 500-unit run of the new GTA arrives in a way few others would match. The Giulia Quadrifoglio was already an impressive machine, changing the image of Alfa Romeo substantially on its launch and quickly followed up by the Stelvio, but this is something else.
The GTA and GTAm link back to the 1965 GTA, standing for Gran Turimso Alleggerita, with the new car available to be ordered either as the regular model with 5 seats, of the Modificato version with the rear bench replaced by a cage and harnesses, and featured a wildly more track oriented design thanks to the large wing and extended splitter. In both instances the 2.9l TT V6 sees a power jump to 540hp with torque at 600Nm, which means a 0-100km/h (62mph) of approximately 3.6 seconds and a soundtrack to enjoy thanks to the standard Akrapovic titanium exhaust system.
Visually the car is wider, lower, has a new fascia and rear, wears different wheels and comes available in a series tricolore paint colours (GTA Red, Montreal Green, and Trophy White) or 8 heritage designs. Both models include a Bell Helmet and Goodwool car cover as standard, with the GTAm also including an Alpinestars racesuit for the additional price; being €181,500, €5,000 over the GTA's €176,500 pricetag.
For the first time to take a look in person, we can discover the pre-production model in the studio. Please excuse the echos from the acoustics, and enjoy a tour of the new car and a best attempt at the sound it makes considering the environment. Stay tuned for more to come with the GTAm in future...
Thanks for watching, Tim
Subscribe:
http://bit.ly/Shmee150YT
Website:
http://www.shmee150.com
Shop:
http://shop.shmee150.com
Instagram:
http://www.instagram.com/shmee150
Facebook:
http://www.facebook.com/shmee150