Towing My McLaren Senna with the AMG G63 to the Nurburgring!
페이지 정보
작성자
관리자

(66.♡.79.105)
댓글
0건
조회
10회
작성일

20-07-29 05:00
본문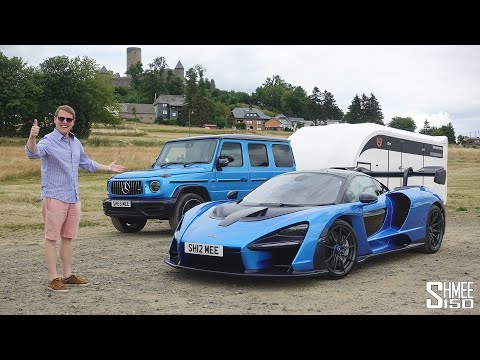 I bought the AMG G63 with this plan; to tow my McLaren Senna on an adventure! With a trailer rented for the purpose, the first destination is to the Nürburgring which means hooking things up, getting the Senna loaded, and cracking on in the G63 to Germany. It's amazing to finally make this happen!
The original plan for my AMG G63 was to use Topaz Skin to match the dual-tone blue paintwork to the MSO Cerulean Blue of the McLaren Senna, and to take my towing license in order to pull it around to various events, tracks and locations. The very day of collecting the G63 from Topaz Detailing in blue was the day of the incident to the Senna, meaning it couldn't happen for the first 6 months, then it was winter time, and then the virus arrived so it has taken an entire year until I've been able to put this plan into action.
Fortunately having taken and passed the trailer license test last summer, having both cars available to head off, a trailer to rent with thanks to Barwell Trailers, and the Nürburgring calling out for the Senna to drive it again, all the dots join together to give it a first go! First up is to head over to Topaz where my 675LT Spider has been delivered for PPF, as has the trailer which thanks to the help of Tony from Turbo Transport we can hook up to the G63 and then load up the Senna - my first time being responsible for doing this myself, but hopefully the first of many to come.
Spread across two days, after loading up the trailer the first leg is out of London to an overnight stop before continuing with horrendous traffic over to the Eurotunnel. In typical fashion, after going through France, Belgium then brings with it some torrential downpour before the last stretches on the German Autobahn towards the Nürburgring ahead of what looks set to be some epic fun to come with the McLaren Senna.
I've rented the trailer from Barewell Trailers:
http://instagram.com/barwelltrailers
Thanks to Tony from Turbo Transport for the help:
http://instagram.com/turbotransport
Thanks for watching, Tim
Subscribe:
http://bit.ly/Shmee150YT
Website:
http://www.shmee150.com
Shop:
http://shop.shmee150.com
Instagram:
http://www.instagram.com/shmee150
Facebook:
http://www.facebook.com/shmee150