Driving My Friend's New KOENIGSEGG REGERA!
페이지 정보
작성자
관리자

(114.♡.164.45)
댓글
0건
조회
14회
작성일

20-07-28 04:00
본문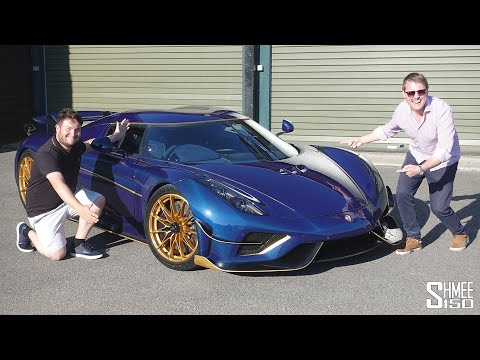 My friend, Zach's Garage has just taken delivery of a brand new Koenigsegg Regera, and let me take it for a drive to experience what it's about! The Swedish hypercar joins an amazing car collection, with the full blue carbon and painted gold standing out, and on the roads... there aren't many words!
My first drive in a Koenigsegg Regera came almost 2 years ago in the USA with Dan Am I, which was a very early version of the car but with deliveries now fully underway of the 80 units of the Swedish hypercar, it's time to take in more of what it offers. With numbers that are so high it makes no sense, there's a 5.0l TT V8 making 1,100hp and 1,200nm, combined with an electric power unit adding 700hp and 900nm, all operated through Koenigsegg Direct Drive, ultimately allowing it to go from 0-400km/h (248mph) in a mere 22.8 seconds. Go figure!
Having only just arrived at Zach's Garage, this particular car is one of a handful coming to the UK and features a body of full exposed blue-tint carbon fibre, combined with hand painted gold leaf for the accents and visual contrast around the exterior. Inside it's a match with blue Alcantara and gold stitch, in a cabin that offers a very GT feel considering the available power.
With UK roads famous for being uneven and having loud tarmac, it's a great opportunity to discover that this really is the ultimate, usable megacar, offering insane performance but actually immense usability and dare I say it an even smoother drive than a Bugatti Chiron. With Zach joining me, let's first bring it out of the museum of amazing cars before hitting the roads to discover more, with a tour of the cars in the collection upon return.
A huge thanks to Zach, please do check out his channel and pages for more with this car and many more:
https://www.youtube.com/zachsgarage
https://www.instagram.com/zachs_garage
Thanks for watching, Tim
Subscribe:
http://bit.ly/Shmee150YT
Website:
http://www.shmee150.com
Shop:
http://shop.shmee150.com
Instagram:
http://www.instagram.com/shmee150
Facebook:
http://www.facebook.com/shmee150