Bugatti Chiron Pur Sport SPOTTED at the Nurburgring!
페이지 정보
작성자
관리자

(17.♡.96.214)
댓글
0건
조회
12회
작성일

20-06-28 04:00
본문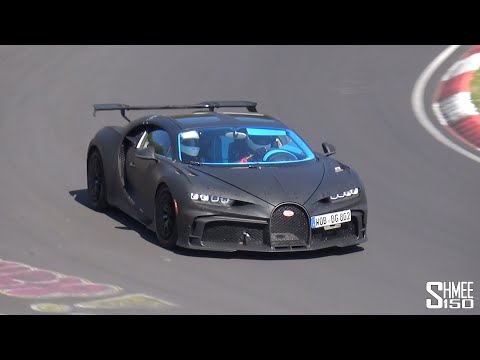 It's not every day you see a Bugatti at the Nürburgring, let alone two including the brand new Chiron Pur Sport! Out for some testing laps, the hypercars are alongside some very exciting company with the new Porsche GT3, Audi S3, BMW M5 CS and Mercedes S Class. The Pur Sport however signifies Bugatti's intentions that this is a Chiron for the track.
The famous Nürburgring Nordschleife is an often used testing ground for manufacturers to put their new cars through the paces; for all sorts of purposes from tyre testing to gathering engineering data and comparing to other models. On this day in particular though we are treated to hypercar royalty with Bugatti bringing not one but two cars to the track.
During a cycle on my friend Misha's Greyp electric bicycle around the Eiffel Mountains, a few moments trackside offer an opportunity to enjoy some great sights of upcoming cars blasting by dressed up in their camouflage. With Porsche going lap after lap with the 992 generation of the GT3 allowing us to enjoy the naturally aspirated flat-6, and BMW bringing out a lot of their models including the new M3 and M4, plus the M5 CS testing against the M5 Competition, and also Audi running non-stop with the new S3 which is clearly on the horizon.
The Bugatti Chiron Pur Sport is introduced to up the handling game, with numerous developments making it more suited to the racetrack. There will be a total run of just 60 units and they cost £2.6m plus taxes (£3.12m) each.
While I may have missed capturing the moment an AMG GT Black Series flew by, being able to see a number of laps from the Bugattis more than made up for it during a very rare outing and opportunity to witness them in action.
Thanks Misha!
https://www.youtube.com/c/MishaCharoudin
Thanks for watching, Tim
Subscribe:
http://bit.ly/Shmee150YT
Website:
http://www.shmee150.com
Shop:
http://shop.shmee150.com
Instagram:
http://www.instagram.com/shmee150
Facebook:
http://www.facebook.com/shmee150