I Tried to BUY BACK My First Car... But it's WRECKED!
페이지 정보
작성자
관리자

(114.♡.166.64)
댓글
0건
조회
12회
작성일

20-05-21 04:00
본문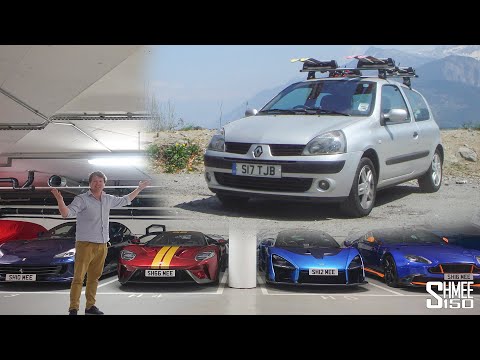 First cars always make the best memories, and mine was a lovely 2005 Renault Clio! I've been looking for it for a long time with the hope to buy it back and add it to my garage alongside the McLaren Senna, Ford GT and other incredible cars I've been lucky to acquire. Alas, I've only just missed it, following a crash where it was written-off by insurance, and now scrapped, but here's the story how I came to out what happened.
For many years I have been wondering the current status of my first ever car; the 3 door 2005 Renault Clio 1.2 Dynamique in Silver that I bought in mid-2005; a pre-registered car sitting on the dealership forecourt. It had originally been wearing LR05 FTA but I had it registered with S17 TJB (Sept 17th - my birthday, and my initials), a plate I still own to this date and has been on a number of other cars. There is a system which reports the MOT status of a car so I could always see the mileage climbing and the numbers going up each year but absolutely no idea where it had gone to from there.
Hence when I made a post a few months ago I was absolutely delighted and grateful that almost instantly some of you guys found an advert from when it had most recently been sold, as recently as October of 2019, last year. This started the real hunt to track it down and attempt to make contact with the current owner... with great excitement that it might be possible to make them an offer they wouldn't be able to refuse to add the car back to my garage. Sadly the result has not been the fairytale story I hoped for, as it has been involved in a crash and written-off for scrap.
Classified by insurance as a Cat B, the requirements mean the shell must be crushed and destroyed and the car could not go back on the road. Unfortunately though, even to store in my museum if it could not be driven on the road, this all happened just a little too late as I've missed it by about a month. However, not being able to change the past, an amazing effort was made to track it down, find where it was scrapped, and now to know which yard has the remains which I would still very, very much like to buy back and use for something going forwards; perhaps some artworks or furniture in the mancave. There's also an option to purchase an identical car as a tribute, and put the S17 TJB plate back on it!
While it's a sad end to some amazing memories, it's an equally incredible effort to have been able to find it and know the story rather than wondering years down the line - thank you to everyone that's been involved.
Thanks for watching, Tim
Subscribe:
http://bit.ly/Shmee150YT
Website:
http://www.shmee150.com
Shop:
http://shop.shmee150.com
Instagram:
http://www.instagram.com/shmee150
Facebook:
http://www.facebook.com/shmee150