BUYING BACK My Old McLaren 675LT Coupe?
페이지 정보
작성자
관리자

(114.♡.167.124)
댓글
0건
조회
13회
작성일

20-05-14 04:00
본문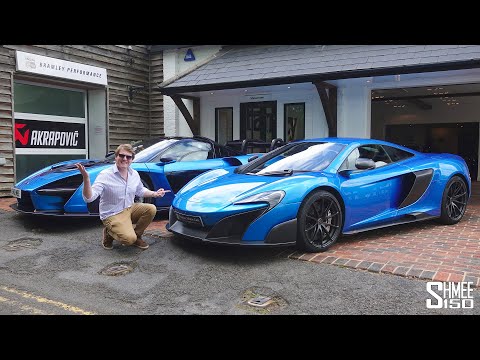 My former McLaren 675LT Coupe Shmeemobile is back on the market! After 4 years with its previous owner, the car is now for sale with Bramley Motor Cars - from where I bought my Ferrari GTC4Lusso last year. With my Senna wearing a matching spec, let's get the two reunited and think about whether it could make a return to the garage.
Having previously owned two other McLarens, the MP4-12C and 650S Spider, the 675LT was actually the first ever supercar I bought from brand new and chose the spec for myself. As my 12C had been wrapped in a gloss metallic bright blue, the similarities to MSO Cerulean Blue made it the only real option for the LT when I was making the choices. It was finished with all the exposed carbon fibre options with a satin finish, the stealth wheels and polished silver calipers. On the inside it's a mix of black Alcantara and leather, with light blue stitching, embroidery and the lovely Cerulean Blue painted Handling and Powertrain toggles in the Active Dynamics Panel.
When the 675LT launched, McLaren originally only intended to make 500 Coupes, but given they then later announced a Spider version was to follow, I made the decision to change up and go open top. However, I also knew at the time that I had put in my letter of intent for the next Ultimate Series car, a hardcore track monster codenamed P15 with a fixed roof only. That car of course has become the Senna, for which I very much based my spec on what I had done before with my 675LT Coupe.
I will never forget the experience buying the car; from choosing the spec, to seeing it at the factory, taking delivery, the first drive and road trips. However, when it comes to my garage I'm a big fan of a variety of driving experiences and with the 675LT Spider built on the same carbon tub and therefor no loss of driving dynamics, I don't believe it would make sense to have two of the 'same car'. It would be better to look towards something new like a 2005 Ford GT, SL65 Black Series, LFA, or even my recent acquisition of the SLS AMG Black Series.
For the outing to share one of the original Shmeemobiles with you, naturally it makes sense to pick the Senna, to reunite the two Cerulean Blue McLarens back together. The last time they were in the same place was at the McLaren Technology Centre for collection day of the Senna 18 months prior, but how good do they look out in the sun side by side?!
Check out the Shmee Senna socks from Heel Tread here:
https://heeltread.com/search?q=Senna&aff=2
You can find more information about the 675LT for sale with Bramley Motor Cars here:
https://www.bramley.com/carsales/details/McLaren/675-LT/13862.htm
Credit to yd222 for the original P1 and 12C clips:
http://www.youtube.com/yd222
Thanks for watching, Tim
Subscribe:
http://bit.ly/Shmee150YT
Website:
http://www.shmee150.com
Shop:
http://shop.shmee150.com
Instagram:
http://www.instagram.com/shmee150
Facebook:
http://www.facebook.com/shmee150