IT'S TIME! The Big Drive to Collect My Dream Car
페이지 정보
작성자
관리자

(66.♡.79.229)
댓글
0건
조회
8회
작성일

20-03-21 05:00
본문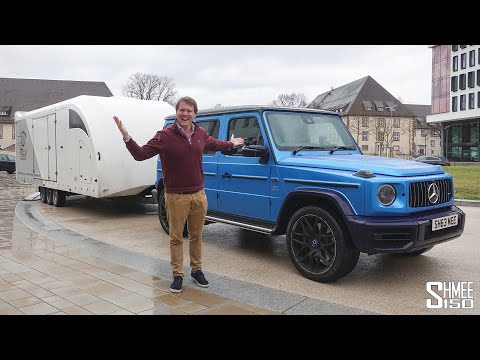 It's time to get on the road to collect my new dream car! The newest Shmeemobile to join the garage comes from far afield; cue a trip in the AMG G63 with a trailer to collect it in Munich, Germany. With payment clearing through just in time, and the channel reaching 2 million subscribers, there's a long drive ahead, let's go!
I love a good road trip, and this is exactly what my G63 was bought to do. However, a slight mishap shuffled the plans slightly as Tony from Turbo Transport experienced his truck breaking down in Germany, so it's almost a rescue mission to pick up the trailer on the way through. The first leg therefore takes me 10 hours from the storage in London across the Eurotunnel towards Germany to find Tony near Frankfurt and continue a few more hours onwards to Stuttgart for a very short night.
A clue I can reveal for you at this stage, the new car will wear the number plate SH62 MEE... make of that what you will for now! Another fun fact, this very car that I'm collecting as a new Shmeemobile has been on my channel before, about 6 years ago as part of another video.
Thanks to Tony as always!
http://instagram.com/turbotransport
NOTE: The timing of this milestone is far from ideal due to current global circumstances, however I am also incredibly excited and proud to celebrate my channel reaching 2 million subscribers. The process of purchasing this car came well before the current situation exploded, otherwise this would not have been possible due to border restrictions, self distancing, and other health and safety issues. I hope you can join with me in a positive fashion celebrating this achievement and a personal thank you to all of your continuous support. My best wishes go out to everybody who is affected by this global crisis and my thoughts are always with you especially during these trying times.
Thanks for watching, Tim
Subscribe:
http://bit.ly/Shmee150YT
Website:
http://www.shmee150.com
Shop:
http://shop.shmee150.com
Instagram:
http://www.instagram.com/shmee150
Facebook:
http://www.facebook.com/shmee150