My GR Supra is Finally Home for the FIRST TIME EVER!
페이지 정보
작성자
관리자

(66.♡.71.25)
댓글
0건
조회
49회
작성일

20-01-09 05:00
본문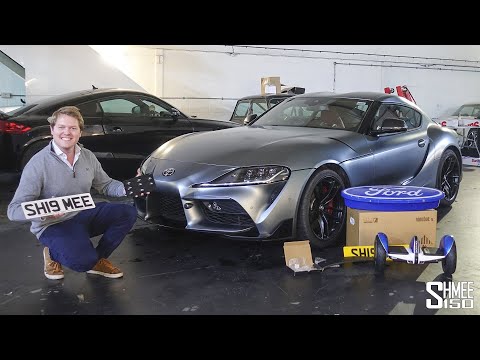 It is finally time to take my Toyota GR Supra home for the first time ever! However, that's not all as there's now a solution to fix the awkward front plate that has plagued my Supra since collection day. Let's get on the road from Germany all the way back to Dub Customs in the UK.
When I collected my new A90 Edition of the Toyota Supra in September, I drove it straight from the dealership to the Eurotunnel to cross straight over to Germany to put in a lap at the Nurburgring Norschleife. From there we ventured to Cars & Coffee Munich before keeping it at my flat in Frankfurt over the winter. However, it's now time to bring it to my garage for literally the first time ever, and in doing so heading via Dub Customs to resolve the number plate issue.
On the day of collection, I had asked the dealership to avoid drilling holes into the original bumper and as such there is no easy place to install the front plate. At the time with no special equipment we made a temporary sticker plate and placed it at the bottom of the front splitter - which never looked good in the slightest. Fortunately though, there's a part available to sort this one out!
After a seemless journey all the way across Germany, the Netherlands, Belgium and France, and onto the Eurotunnel train, the first stop after 8-9 hours on the road is to Dub Customs and a wash down thanks to F1Wax. In addition to the number plate fix, the Dub Customs guys also helped out complete my Christmas present from my girlfriend; the Segway Ninebot S wrapped to match the Go-Kart attachment - something we'll see together very soon.
It's great to have it back home, and even better to have a permanent front plate solution now in place!
Thanks as always to the great guys at Dub Customs for their help! Be sure to follow them here:
http://instagram.com/dub_customs
Thanks for watching, Tim
Subscribe:
http://bit.ly/Shmee150YT
Website:
http://www.shmee150.com
Shop:
http://shop.shmee150.com
Instagram:
http://www.instagram.com/shmee150
Facebook:
http://www.facebook.com/shmee150