What's Wrong with My McLaren 675LT Spider? GARAGE UPDATE
페이지 정보
작성자
관리자

(66.♡.71.26)
댓글
0건
조회
46회
작성일

20-01-01 05:00
본문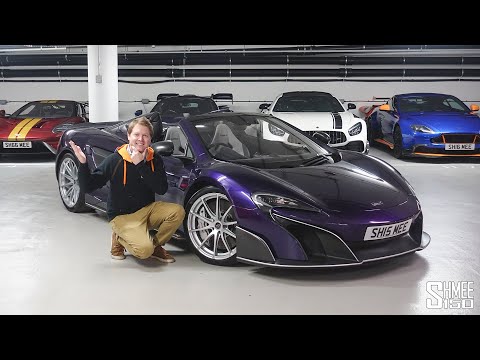 My McLaren 675LT Spider is here in the garage, but what's wrong and why haven't I really driven it recently? Let's have a garage update including news on all of the new and future Shmeemobiles as well as going over the reason.
Lined-up in the storage we have the 675LT, then the Ford GT, McLaren Senna, AMG G63, Aston Martin Vantage GT8, Ferrari GTC4Lusso and AMG GT R Pro; plus all of the car keys including the Toyota GR Supra, and the Ford Focus RS Red and Heritage Editions. To kick things off, let's run over all of the current garage including the plans and next things to be done as we go into 2020.
Then the 675LT... why haven't I driven that car recently? When it hit 3 years old in the summer it went for a big service, check-over, warranty extension and to have some paintwork done to rectify some corrosion to the front wings. In short the panels had slightly rusted and needed replacement with the new parts painted in MSO Orion Purple to match. The unfortunate situation since is that the bonnet has now corroded as well and needs a further paintwork job, although that alone isn't the cause for not driving it... this comes down to something much more simple. Unfortunately during transport back to me the battery was allowed to go flat which in the case of the 675LT means the airbags throw a fault which needs a computer to reset. It's not complicated to do, I just haven't had time to get it done and I don't fancy driving such a car without airbags just in case.
The future is also bright with a lot of things to discuss, including the various cars I've announced as future Shmeemobiles: the BMW M8 Competition, AMG A45 S, TVR Griffith, AMG GT R Roadster, and the Shelby GT500.
Rounding out the amazing year that was 2019 I'd like to extend a thanks again to those who have been part of this adventure. The Shmee150 channel started on 18th Jan 2010 and is now only a few weeks away from the 10th anniversary and it is crazy where this has taken me, and it is only going to get even better! Thanks for being part of it.
Thanks for watching, Tim
Subscribe:
http://bit.ly/Shmee150YT
Website:
http://www.shmee150.com
Shop:
http://shop.shmee150.com
Instagram:
http://www.instagram.com/shmee150
Facebook:
http://www.facebook.com/shmee150